Book Blogger Hop is a weekly meme hosted by Jennifer at
Crazy-for-Books
. In the spirit of the Twitter Friday Follow, the Book Blogger Hop is a place just for book bloggers and readers to connect and share our love of the written word! This weekly BOOK PARTY is an awesome opportunity for book bloggers to connect with other book lovers, make new friends, support each other, and generally just share our love of books! It will also give blog readers a chance to find other book blogs to read! So visit Crazy-for-Books to grab the logo, post about the Hop on your blog, and start HOPPING through the list of blogs that are posted in the Linky list there!
This week's question:
Coming soon!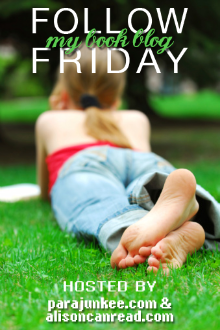 Follow Friday is hosted by
Parajunkee
and
Allison Can Read
. Visit either of their blogs for complete rules of the following fun!
This week's question:
"The New Year is here — and everyone wants to know your New Years Blogging Resolution! What are you going to try to revise, revamp and redo for 2012 on your blog?"
I have several. The first is to read more - once again I'm setting a goal to read 100 books. Second, I want to try and be more interactive with other authors and bloggers...this includes commenting on more blogs. Also, I'd like to continue to bring a variety of content to the blog, not just reviews and memes. Finally, I hope to always be organized both with what I'm reading and with what I'm posting...we'll see how that works!
What are your answers? Please leave a comment or a link to your blog!