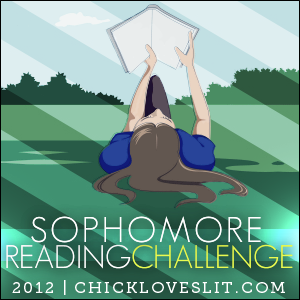 With only a few days left in 2011, I've been busy getting my reading lists and spreadsheets in order for 2012. And that of course means signing up for challenges! There are so many debuts from last year that left me longing for the sequel, and so when I found the Sophomore Reading Challenge hosted by Shanyn at
Chick Loves Lit
, I knew I had to join.
Without further ado, here are the sophomore books I plan on reading next year (subject to change):
Hallowed – Cynthia Hand
Angel Fire – L.A. Weatherly
Wings of the Wicked – Courtney Allison Moulton
A Touch Morbid – Leah Clifford
Perception – Kim Harrington
Pandemonium – Lauren Oliver
Until I Die – Amy Plum
Insurgent – Veronica Roth
Dreamless – Josephine Angelini
Arise – Tara Hudson
Mirage – Kristi Cook
Timepiece – Myra McEntire
Spark – Amy Kathleen Ryan
Girl of Nightmares – Kendare Blake
Outpost – Ann Aguirre
Rebel Heart – Moira Young
Shadows – Ilsa J. Bick
The Madness Underneath – Maureen Johnson
There are more, of course, but for some of the other books I still need to read the first book. So many books, so little time!