Book Blogger Hop is a weekly meme hosted by Jennifer at
Crazy-for-Books
. In the spirit of the Twitter Friday Follow, the Book Blogger Hop is a place just for book bloggers and readers to connect and share our love of the written word! This weekly BOOK PARTY is an awesome opportunity for book bloggers to connect with other book lovers, make new friends, support each other, and generally just share our love of books! It will also give blog readers a chance to find other book blogs to read! So visit Crazy-for-Books to grab the logo, post about the Hop on your blog, and start HOPPING through the list of blogs that are posted in the Linky list there!
This week's question:
Coming soon!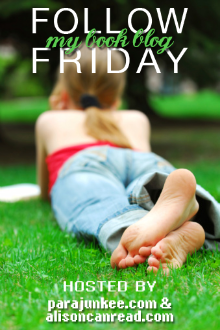 Follow Friday is hosted by
Parajunkee
and
Allison Can Read
. Visit either of their blogs for complete rules of the following fun!
This week's question:
"Q: What is your biggest pet peeve when it comes to books? Maybe you don't like love triangles or thin plots? Tell us about it!"
I'm surprisingly having a difficult time thinking of any real pet peeves. I do, however, have a problem with love triangles done poorly, especially if they are introduced to cover up lack of plot. A good love triangle can bring a lot to a story, but a poorly-crafted one can kill an otherwise good book. I am also not a fan of an excessive amount of physical description of the main male characters. Don't get me wrong, I love envisioning some of the love interests as much as the next girl, but I find it irritating when every other sentence talks about some aspect of how hot he is. I want to know the guy behind the hotness.
And that's all I can think of for now!
What are your answers? Please leave a comment or a link to your blog!