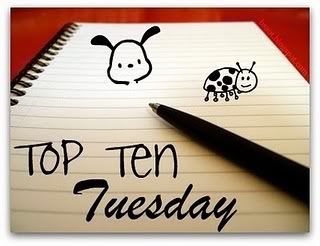 Top Ten Tuesday is a weekly meme hosted by
The Broke and the Bookish
. Each week there will be a new topic and a new list to make. Be sure to stop by the host blog to see all of the other blogs participating!
This week's topic:


Top Ten Childhood Faves
1. The Chimney Witches by Victoria Whitehead - I guess even as a child I loved paranormal books. I'm not sure what it was that made me love this book so much, but I checked it out from the library several times a year. A few years ago, I finally found a copy on Amazon and purchased it. There's just something about the books you loved as a child that makes you have to have them.
2. Anne of Green Gables by L.M. Montgomery - There is so much to love about this book. And I always wanted a friend like Anne.
3. The Velveteen Rabbit by Margery Williams - I don't think it's possible to not love this book.
4. The Boxcar Children by Gertrude Chandler Warner - I remember waking up early on Saturday mornings, getting all of my books stacked in order, and seeing how many I could read before my parents discovered that I was awake. I loved getting lost in these stories.
5. Nancy Drew Books by Carolyn Keene - I liked some books in this series more than others, but I always enjoyed the adventures of Nancy and her friends.
6. A Wrinkle in Time by Madeleine L'Engle - I was always fascinated by this story. I know that I read this book and its sequels multiple times.
7. Little House on the Prairie by Laura Ingalls Wilder - I've lost track of how many times I read these books. I was so curious about what it would have been like to live in a different time.
8. Heidi by Joanna Spyri - I guess my love for books in foreign settings goes all the way back to childhood. I could lose myself for hours with Heidi and her goats.
9. Island of the Blue Dolphins by Scott O'Dell - I used to love dolphins, and I think the fact that 'dolphins' was in the title made me love the book. Even so, it's a wonderful story and one that I reread many times.
10. The Babysitter's Club - I still remember the first book I read from this series - Mallory and the Trouble with Twins. I wanted to be just like these girls when I grew up. That didn't quite happen, but the books were great!
What made your Top Ten list? Please leave a comment or link to your blog!