LOLA AND the BOY NEXT DOOR by Stephanie Perkins
Budding designer Lola Nolan doesn't believe in fashion . . . she believes in costume. The more expressive the outfit -- more sparkly, more fun, more wild -- the better. But even though Lola's style is outrageous, she's a devoted daughter and friend with some big plans for the future. And everything is pretty perfect (right down to her hot rocker boyfriend) until the dreaded Bell twins, Calliope and Cricket, return to the neighborhood.
When Cricket -- a gifted inventor -- steps out from his twin sister's shadow and back into Lola's life, she must finally reconcile a lifetime of feelings for the boy next door. (From Goodreads)
You can read my review here.
~INTERVIEW~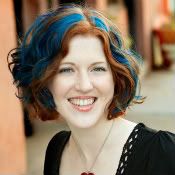 I'm very excited to have
Stephanie Perkins
here today as a feature for Best I've Read 2011. Her stories are full of warm fuzzies with both touching and humorous moments - definitely must-reads. Please take a few minutes to learn more about this amazing author!
If this were Twitter, how would you pitch Lola and the Boy Next Door in 140 characters or less?
Man seeks revenge on white whale.
Wait.
All of your characters are incredibly vivid and real. How do you create them? How much is drawn from real life and how much is imagination?
Thank you very much. My characters are created from different pieces of myself, positive and negative traits. I enjoy rounding them out with details from people (both famous and non) who I am personally fascinated by.
Your books are all adorable romantic comedies. Have you ever considered writing anything darker or paranormal?
Merci! And absolutely.
Do you have a life motto or words to live by?
All you can do is all you can do.
Who are your all-time favorite heroes/heroines from books?
Harry, Ron, and Hermione. Princess Mia Thermopolis. Elizabeth Bennet.
Do you have any projects in mind after Isla and the Happily Ever After?
Many. And they're all a secret. ;-)
~GIVEAWAY~
I am very excited to have one copy of LOLA AND THE BOY NEXT DOOR to give away!
This contest is open to residents of the U.S. only. Must be 13 to enter. Please see my
Contest Policy
for more information.
This contest will close on Saturday, December 23 at 12:00 AM CST.
This contest is now closed.
Today the Best I've Read blog is featuring DIVERGENT by Veronica Roth! Please click
here
to learn more about this book and author!