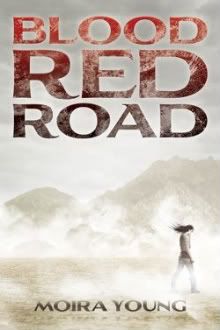 BLOOD RED ROAD by Moira Young
Saba has spent her whole life in Silverlake, a dried-up wasteland ravaged by constant sandstorms. The Wrecker civilization has long been destroyed, leaving only landfills for Saba and her family to scavenge from. That's fine by her, as long as her beloved twin brother Lugh is around. But when a monster sandstorm arrives, along with four cloaked horsemen, Saba's world is shattered. Lugh is captured, and Saba embarks on an epic quest to get him back.
Suddenly thrown into the lawless, ugly reality of the world outside of desolate Silverlake, Saba is lost without Lugh to guide her. So perhaps the most surprising thing of all is what Saba learns about herself: she's a fierce fighter, an unbeatable survivor, and a cunning opponent. And she has the power to take down a corrupt society from the inside. Teamed up with a handsome daredevil named Jack and a gang of girl revolutionaries called the Free Hawks, Saba stages a showdown that will change the course of her own civilization.
Blood Red Road has a searing pace, a poetically minimal writing style, violent action, and an epic love story. Moira Young is one of the most promising and startling new voices in teen fiction. (From Goodreads)
You can read my review here.
~GIVEAWAY~
I am very excited to have one copy of BLOOD RED ROAD to give away!
This contest is open to residents of the U.S. only. Must be 13 to enter. Please see my
Contest Policy
for more information.
This contest will close on Saturday, December 23 at 12:00 AM CST.
This contest is now closed.
Today the Best I've Read blog is featuring HAVEN by Kristi Cook! Please click
here
to learn more about this book and author!