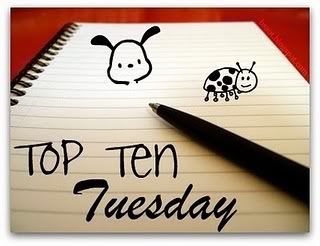 Top Ten Tuesday is a weekly meme hosted by
The Broke and the Bookish
. Each week there will be a new topic and a new list to make. Be sure to stop by the host blog to see all of the other blogs participating!
This week's topic:


Top Ten Favorite Books I Read in 2011
1. Forbidden by Tabitha Suzuma - I don't have enough words for this book. It's amazing.
2. Wolfsbane and Bloodrose by Andrea Cremer - Possibly the best YA paranormal books I've read. If you haven't read this trilogy, you definitely should.
3. Delirium by Lauren Oliver - Wonderful dystopian novel. Everything about the book was brilliant!
4. Hereafter by Tara Hudson - I think I can sum up the writing and this story in one word: beautiful.
5. Vanish by Sophie Jordan - This book was just riveting, full of action and love, and certainly left me wanting more.
5. Where She Went by Gayle Forman - Another book with beautiful writing, and better than If I Stay, if that's possible.
6. Lover Unleashed by J.R. Ward - It's the WARDen. Need I say more?
7. Anna and the French Kiss and Lola and the Boy Next Door by Stephanie Perkins - I fell in love with the love in these books. Such wonderful stories!
8. Angelfire by Courtney Allison Moulton - I loved the action in this book as well as Will, the love interest. He may be my top book boyfriend of the year.
9. Blood Red Road by Moira Young - Written unlike anything I'd ever read before, I was quickly swept up in this story. An epic dystopian that is more than it appears to be.
10. The Unbecoming of Mara Dyer by Michelle Hodkin - Quite possibly one of the most well-crafted mysteries I've ever read. Noah had me swooning and Mara kept me guessing. Loved it!
What made your Top Ten list? Please leave a comment or link to your blog!