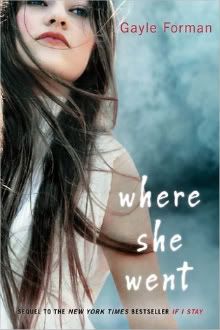 WHERE SHE WENT by Gayle Forman
It's been three years since the devastating accident . . . three years since Mia walked out of Adam's life forever.
Now living on opposite coasts, Mia is Juilliard's rising star and Adam is LA tabloid fodder, thanks to his new rock star status and celebrity girlfriend. When Adam gets stuck in New York by himself, chance brings the couple together again, for one last night. As they explore the city that has become Mia's home, Adam and Mia revisit the past and open their hearts to the future - and each other.
Told from Adam's point of view in the spare, lyrical prose that defined If I Stay, Where She Went explores the devastation of grief, the promise of new hope, and the flame of rekindled romance. (From Goodreads)
You can read my review here.
~GIVEAWAY~
I am very excited to have one copy of WHERE SHE WENT to give away!
This contest is open to residents of the U.S. only. Must be 13 to enter. Please see my
Contest Policy
for more information.
This contest will close on Saturday, December 23 at 12:00 AM CST.
This contest is now closed.
Today the Best I've Read blog is featuring DELIRIUM by Lauren Oliver! Please click
here
to learn more about this book and author!