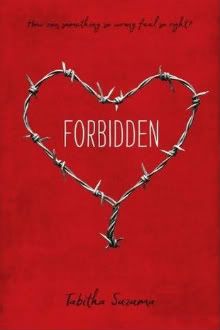 FORBIDDEN by Tabitha Suzuma
Seventeen-year-old Lochan and sixteen-year-old Maya have always felt more like friends than siblings. Together they have stepped in for their alcoholic, wayward mother to take care of their three younger siblings. As defacto parents to the little ones, Lochan and Maya have had to grow up fast. And the stress of their lives—and the way they understand each other so completely—has also also brought them closer than two siblings would ordinarily be. So close, in fact, that they have fallen in love. Their clandestine romance quickly blooms into deep, desperate love. They know their relationship is wrong and cannot possibly continue. And yet, they cannot stop what feels so incredibly right. As the novel careens toward an explosive and shocking finale, only one thing is certain: a love this devastating has no happy ending. (From Goodreads)
I have to gush a bit, because this may well be my favorite book of the year. The writing and story of FORBIDDEN are amazing. If you think you will be put off by the subject matter, consider giving it a chance. You won't regret it.

You can read my full review here.
~GIVEAWAY~
I am very excited to have one copy of FORBIDDEN to give away!
This contest is open to residents of the U.S. only. Must be 13 to enter. Please see my
Contest Policy
for more information.
This contest will close on Saturday, December 23 at 12:00 AM CST.
This contest is now closed.
Today the Best I've Read blog is featuring VANISH by Sophie Jordan! Please click
here
to learn more about this book and author!