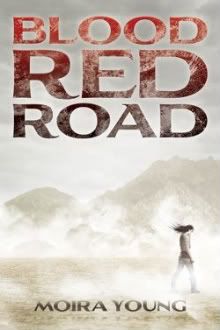 BLOOD RED ROAD
By: Moira Young
Published By: Margaret K. McElderry
Release Date: June 7, 2011
Series: Dustlands (#1)
Pages: 459
Genre: Dystopian
Reading Level: Young Adult
Source: Bought
Buy the Book: Amazon
Goodreads Summary: Saba has spent her whole life in Silverlake, a dried-up wasteland ravaged by constant sandstorms. The Wrecker civilization has long been destroyed, leaving only landfills for Saba and her family to scavenge from. That's fine by her, as long as her beloved twin brother Lugh is around. But when a monster sandstorm arrives, along with four cloaked horsemen, Saba's world is shattered. Lugh is captured, and Saba embarks on an epic quest to get him back.
Suddenly thrown into the lawless, ugly reality of the world outside of desolate Silverlake, Saba is lost without Lugh to guide her. So perhaps the most surprising thing of all is what Saba learns about herself: she's a fierce fighter, an unbeatable survivor, and a cunning opponent. And she has the power to take down a corrupt society from the inside. Teamed up with a handsome daredevil named Jack and a gang of girl revolutionaries called the Free Hawks, Saba stages a showdown that will change the course of her own civilization.

Blood Red Road has a searing pace, a poetically minimal writing style, violent action, and an epic love story. Moira Young is one of the most promising and startling new voices in teen fiction.
It's been a long time since I've read a dystopian novel, but Blood Red Road made for a great return to the genre. Full of surprises, obstacles to overcome, and a bit of romance, I was quickly drawn into the story and kept turning pages until the end.
Saba lives in Silverlake with her twin brother Lugh, her sister Emmi, and her father. Her mother died giving birth to Emmi, and Saba has always resented that fact. Because of this, Saba has clung to Lugh, following him wherever he goes and ignoring her younger sister. When Lugh is suddenly captured by four unknown horsemen, Saba vows to stop at nothing to get him back. This quest takes her far away from Silverlake, through the Dustlands and old Wrecker settlements. Saba finds herself facing obstacles and situations she never imagined, having to fight for both what she wants and for her life. In addition, she is forced to accept help from unlikely and unwanted sources and to confront her own nature and emotions. By doing so, she will learn a great deal about life, finding her heart's desire, friendship, and love.
Blood Red Road is very different from many other books I have read in its style; it is told in sparse prose, with all of the writing in dialect and no quotation marks for speech. At first I was taken aback by this, but I quickly adjusted, and I think that this style really enhanced the story. I loved watching Saba grow over the course of the story. Her initial resistance to help and anything that defied logic made for quite an interesting journey, both physically and emotionally. I also enjoyed seeing the ingenuity and resourcefulness that all of the characters displayed. The situations they face in their journey are tough, but these characters are determined to be tougher. And then there was the great tension between Saba and Jack. Their banter and increasing attraction was a wonderful addition to the story.
Though there were times of slow action, this book was certainly never dull. Even though a big thread of the plot is resolved at the end of the book, there is still more of Saba's story to be told. I cannot wait to see what the future holds for her, her world, and her relationship with Jack. I'm also hoping that some of the characters we come to know in this book, such as the Free Hawks and DeMalo, will come back in the sequel.
Blood Red Road might be a dystopian novel, but there is much more to the book than overthrowing a corrupt government. Moira Young has written a fabulous debut novel, and I am looking forward to reading more!