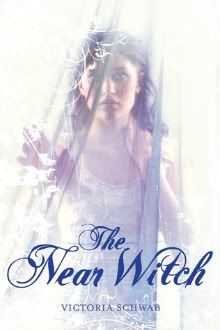 THE NEAR WITCH
By: Victoria Schwab
Published By: Hyperion Books CH
Release Date: Aug. 2, 2011
Series: None
Pages: 288
Genre: Fantasy
Reading Level: Young Adult
Source: ALA
Buy the Book: Amazon
Goodreads Summary: The Near Witch is only an old story told to frighten children.

If the wind calls at night, you must not listen. The wind is lonely, and always looking for company.

And there are no strangers in the town of Near.

These are the truths that Lexi has heard all her life.

But when an actual stranger—a boy who seems to fade like smoke—appears outside her home on the moor at night, she knows that at least one of these sayings is no longer true.

The next night, the children of Near start disappearing from their beds, and the mysterious boy falls under suspicion. Still, he insists on helping Lexi search for them. Something tells her she can trust him.

As the hunt for the children intensifies, so does Lexi's need to know—about the witch that just might be more than a bedtime story, about the wind that seems to speak through the walls at night, and about the history of this nameless boy.

Part fairy tale, part love story, Victoria Schwab's debut novel is entirely original yet achingly familiar: a song you heard long ago, a whisper carried by the wind, and a dream you won't soon forget.
Remember the days of fairy tales and childhood bedtime stories? In The Near Witch, Victoria Schwab takes this idea and spins a book from it, creating a haunting tale that seems to transcend time and place.
Passed down through the generations, The Near Witch is a legend of something that happened long ago in Near, a story of how good triumphed over evil and the town was made safe. Or so everyone thinks. The witch has long since been dealt with, and now there are no strangers (or witches) in Near. Then one night, Lexi sees a mysterious boy from her window - a boy that she's never seen before. When children start disappearing, Lexi knows she has to find this boy. Using the tracking skills taught to her by her father, Lexi locates him. But once she does, she knows that he is innocent. Yet more children are disappearing, and the town is all too eager to blame the stranger. Lexi realizes she has to uncover the truth about the stranger, as well as find the children, before it is too late. She will have to rely on what her father taught her as well as two village women who might, just maybe, be witches. But can she save everyone in time?
The thing I loved the most about this book was the quality of writing. It was unlike anything I had read before, so lyrical and effective at creating an atmosphere that I could not help but be transported to another world. The setting was beautifully crafted; if you have seen or heard Brigadoon, I imagine that the moor in this story has many similarities: an almost magical quality, an air of mystery, and a hidden danger. Woven into this setting and legend were the characters themselves. Lexi was not afraid to challenge authority, make her own decisions, and do what needed to be done to protect her sister. Then there is Cole, the quiet stranger whose past and whose love for Lexi made him completely endearing. I also enjoyed seeing Lexi's interactions with her mother and how things changed over time.
However, the one issue I did have with this book was the romance between Lexi and Cole. Although it was by turns sweet and intense, I missed something in the development. I wanted a little bit more buildup, or maybe more information about Cole, before things started happening. That being said, the romance is a nice balance with the increasingly darker, spooky vibe that comes toward the end of the book.
A story in which the mood evoked is just as important as the characters and the plot, The Near Witch blended poetry, songs, spells, and proverbs into one unique whole. It is a fantastic debut novel, and I cannot wait to see what Schwab writes next!