Book Blogger Hop is a weekly meme hosted by
Jennifer at Crazy-for-Books
. In the spirit of the Twitter Friday Follow, the Book Blogger Hop is a place just for book bloggers and readers to connect and share our love of the written word! This weekly BOOK PARTY is an awesome opportunity for book bloggers to connect with other book lovers, make new friends, support each other, and generally just share our love of books! It will also give blog readers a chance to find other book blogs to read! So visit Crazy-for-Books to grab the logo, post about the Hop on your blog, and start HOPPING through the list of blogs that are posted in the Linky list there!
This week's question:
"What's the LONGEST book you've ever read?"
I'm pretty sure this would be
Stone of Tears
by Terry Goodkind. It's the second book in the Sword of Truth series, and has 979 pages. It's an epic book for an epic series.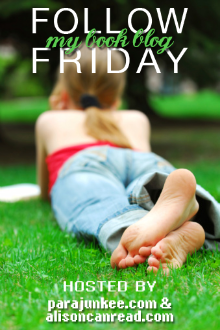 Follow Friday is hosted by
Parajunkee
and
Allison Can Read
. Visit either of their blogs for complete rules of the following fun!
This week's question:
"If you could write yourself a part in a book, what book would it be and what role would you play in that book?"
This is hard! While there are a few books where I think it would be fun to be a character (Black Dagger Brotherhood shellan, anyone? Or Jane Eyre?), I think I would really like to be in an epic fantasy book. The female heroines in these books, while they usually do have some kind of power, are also incredibly strong and courageous. They might endure hardships, but in the end everything works out and they often save many people other than themselves. It would be amazing to have that kind of influence.
What are your answers? Please leave a comment or a link to your blog!