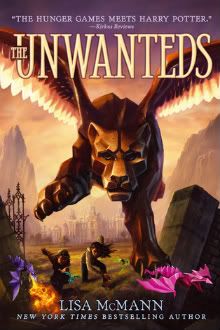 THE UNWANTEDS
By: Lisa McMann
Published By: Aladdin
Release Date: Aug. 30, 2011
Series:
Pages: 390
Genre: Dystopian / Fantasy
Reading Level: Middle Grades
Source: BEA
Buy the Book: Amazon
Goodreads Summary: Every year in Quill, thirteen-year-olds are sorted into categories: the strong, intelligent Wanteds go to university, and the artistic Unwanteds are sent to their deaths.

Thirteen-year-old Alex tries his hardest to be stoic when his fate is announced as Unwanted, even while leaving behind his twin, Aaron, a Wanted. Upon arrival at the destination where he expected to be eliminated, however, Alex discovers a stunning secret—behind the mirage of the "death farm" there is instead a place called Artime.

In Artime, each child is taught to cultivate their creative abilities and learn how to use them magically, weaving spells through paintbrushes and musical instruments. Everything Alex has ever known changes before his eyes, and it's a wondrous transformation.

But it's a rare, unique occurence for twins to be separated between Wanted and Unwanted, and as Alex and Aaron's bond stretches across their separation, a threat arises for the survival of Artime that will pit brother against brother in an ultimate, magical battle.
I rarely read middle grade novels, but for a book in which creative, artistic children are sent to their deaths, I knew I had to make an exception. Although I have not read the Wake trilogy, I enjoyed Cryer's Cross and was excited to read another book by Lisa McMann.
Alex has known for three years that he would be declared Unwanted. Even so, it does not make the pronouncement and his ride to the Death Farm any easier. But when he arrives at the Great Lake of Boiling Oil, he discovers something he never imagined: the land of Artime, a land of feeling, creativity, and magic. Alex, along with his new friends, quickly adapts to this magical land, working with professors on their artistic talents and learning how to turn these talents into magic. But Alex is not perfectly happy, even in Artime. For one thing, his friends are all learning magic while he is told that he must wait. For another, he misses his twin Aaron, who was declared a Wanted, and he longs to bring Aaron to Artime. And then there is the constant worry of Mr. Today, the mage who created Artime: What will happen if the people of Quill discover their existence?
The Unwanteds is certainly unique in conception. It combines elements of both fantasy and dystopian novels, juxtaposing Alex's point of view in Artime with Aaron's life in Quill. I enjoyed following both brothers (even if Aaron was frustrating sometimes), and the dreariness of life in Quill only made life in Artime seem that much more exciting. One of my favorite things about this book was the different incantations the kids in Artime learned; each spell was based on one of the arts, so simple things like painting and dancing could become deadly weapons if combined with the right words or intent. With all of the magic, the unusual animals, and the preparation in case of battle, there was never a dull moment in this book. The surprises and intrigue last until the end of the book and kept me turning pages to see what happens.
Another thing that I loved about this book was the writing style. McMann's writing is both clear and descriptive, easy and pleasing to read. Once again the characters and setting really come alive, and I felt as though I was in Artime. Because of this, aside from some of the animal names, I often forgot I was reading a middle grade book. I do feel that a few explanations were missing and others glossed over; however, I think younger readers wouldn't have this same issue.
Pitched as "Hunger Games meets Harry Potter," fans of both series can find something to enjoy in this book. The Unwanteds offers a magical escape and one that can appeal to both younger and older readers. I will be looking forward to reading Lisa McMann's next book!