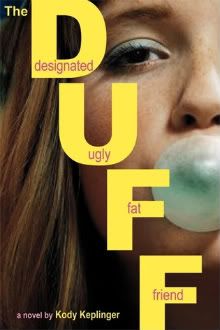 The DUFF
By: Kody Keplinger
Published By: Poppy
Release Date: Sept. 7, 2010
Series: None
Pages: 288
Genre: Contemporary
Reading Level: Young Adult
Source: Bought
Buy the Book: Amazon
Goodreads Summary: Seventeen-year-old Bianca Piper is cynical and loyal, and she doesn't think she's the prettiest of her friends by a long shot. She's also way too smart to fall for the charms of man-slut and slimy school hottie Wesley Rush. In fact, Bianca hates him. And when he nicknames her "the Duff," she throws her Coke in his face.

But things aren't so great at home right now, and Bianca is desperate for a distraction. She ends up kissing Wesley. Worse, she likes it. Eager for escape, Bianca throws herself into a closeted enemies-with-benefits relationship with him.

Until it all goes horribly awry. It turns out Wesley isn't such a bad listener, and his life is pretty screwed up, too. Suddenly Bianca realizes with absolute horror that she's falling for the guy she thought she hated more than anyone.
Who hasn't felt like the DUFF at some point? I put off reading this book for a while because I wasn't sure if I would enjoy it or just wind up sad for the main character. However, I'm very glad I decided to give this book a chance, because it wound up surprising me in a very good way.
Bianca knows that she's not exactly any guy's first choice, but that's because one instance of a broken heart was enough for her. She's content to sit on the sidelines while her best friends Casey and Jessica live it up. But one night, Wesley Rush starts talking to her - Wesley Rush, the hottest guy in school, the guy who hits on every girl indiscriminately but who could never be interested in her. He nicknames her the DUFF (designated ugly fat friend), and Bianca can't get the name out of her head. When she kisses him on impulse and discovers what an escape it is, she can't get enough. But as she finds her life crumbling around her, Bianca is forced to answer some tough questions - is she in love with Wesley? And if she is, can she live with the consequences?
Bianca was so very easy to identify with. Not only has almost everyone felt like the DUFF, but also everyone has suffered heartache or problems at home and longed for escape. Even though her choice isn't one that everyone would make, the attractiveness of her relationship with Wesley is hard to miss. In addition, Bianca's voice in incredibly refreshing. She doesn't hold anything back, from opinions to language to talking about sex. She's cynical and sarcastic, but a true teenage voice. I also loved her friendship with Casey and Jessica. They balanced Bianca out very well; in fact, they were the kind of friends that anyone would want. And Wesley...well, I couldn't help but like him by the end.
This book was definitely different from what I was expecting. It was no-holds-barred, edgy, and not the typical high school story. Sometimes it was a bit much to take in, but it all seemed very authentic. I did love the ending; it is open, but everything comes full circle.
In her debut novel, Kody has written an intense, gripping debut that stirs a variety of emotions. It is hard to believe that she was a teenager when she wrote it, but at the same time, that lends a unique voice to the story. I will look forward to reading her next book!