I'm very excited to be one of the many blogs participating in Teaser Tuesdays! TT is a weekly meme hosted by MizB at Should Be Reading. To participate:


* Grab your current read
* Open to a random page
* Share two "teaser" sentences from somewhere on that page
* BE CAREFUL NOT TO INCLUDE SPOILERS!
(Make sure that what you share doesn't give too much away! You don't want to ruin the book for others!)
* Share the title & author, too, so that other TT participants can add the book to their TBR Lists if they like your teasers!
Here is my teaser: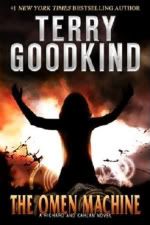 "She pressed herself into him. She couldn't believe that she really had him, that he was really hers, that he really and truly loved her.

She couldn't believe that she was going to lose him to darkness seeking darkness."



p. 126 from The Omen Machine by Terry Goodkind
Please share your teasers - post them or link to your blog!