Opening Lines is a new feature here on Portrait of a Book that showcases the first lines of recent and/or upcoming releases. If you're looking for your next read, let these first lines help you decide!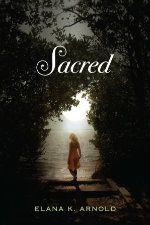 SACRED
By: Elana K. Arnold
Published By: Delacorte Books for Young Readers
Release Date: Nov. 13, 2012
Buy the Book: Amazon
Growing up on Catalina Island, off the California coast, Scarlett Wenderoth has led a fairly isolated life. After her brother dies, her isolation deepens as she withdraws into herself, shutting out her friends and boyfriend. Her parents, shattered by their own sorrow, fail to notice Scarlett's pain and sudden alarming thinness. Scarlett finds pleasure only on her horse, escaping to the heart of the island on long, solitary rides. One day, as she races around a bend, Scarlett is startled by a boy who raises his hand in warning and says one word: "Stop."
The boy—intense, beautiful—is Will Cohen, a newcomer to the island. For reasons he can't or won't explain, he's drawn to Scarlett and feels compelled to keep her safe. To keep her from wasting away. His meddling irritates Scarlett, though she can't deny her attraction to him. As their relationship blossoms into love, Scarlett's body slowly awakens at Will's touch. But just when her grief begins to ebb, she makes a startling discovery about Will, a discovery he's been grappling with himself. A discovery that threatens to force them apart. And if it does, Scarlett fears she will unravel all over again.
"All around me, the island prepared to die."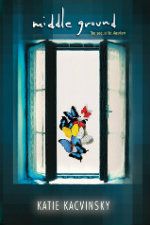 MIDDLE GROUND
By: Katie Kacvinsky
Published By: Houghton Mifflin Harcourt
Release Date: Nov. 20, 2012
Buy the Book: Amazon
In this provocative cautionary tale for teens, the sequel to Awaken, seventeen-year-old Maddie's rebellion against the digital-only life grows dangerous. Maddie is in Los Angeles, trying to stay out of trouble. But one night, a seemingly small act of defiance lands her in the place she fears the most: a detention center. Here, patients are reprogrammed to accept a digital existence. Maddie is now fighting for her mind, her soul, and her very life. Once again, Katie Kacvinsky paints a disturbing picture of our increasingly technology-based society.
"I have over one hundred online profiles."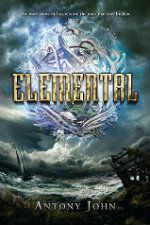 ELEMENTAL
By: Antony John
Published By: Dial
Release Date: Nov. 21, 2012
Buy the Book: Amazon
A lost colony is reborn in this heart-pounding fantasy adventure set in the near future . . .
Sixteen-year-old Thomas has always been an outsider. The first child born without the power of an Element—earth, water, wind or fire—he has little to offer his tiny, remote Outer Banks colony. Or so the Guardians would have him believe.
In the wake of an unforeseen storm, desperate pirates kidnap the Guardians, intent on claiming the island as their own. Caught between the plague-ridden mainland and the advancing pirates, Thomas and his friends fight for survival in the battered remains of a mysterious abandoned settlement. But the secrets they unearth will turn Thomas' world upside-down, and bring to light not only a treacherous past but also a future more dangerous than he can possibly imagine.
"Thunder rattled the aging wooden cabins, but no one stopped to listen."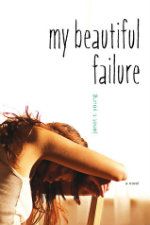 MY BEAUTIFUL FAILURE
By: Janet Ruth Young
Published By: Atheneum Books for Young Readers
Release Date: Nov. 13, 2012
Buy the Book: Amazon
A haunting account of a teen boy who volunteers at a suicide hotline and falls for a troubled caller.
Billy is a sophomore in high school, and twice a week, he volunteers at Listeners, a suicide hotline.
Jenney is an "incoming," a caller, a girl on the brink.
As her life spirals out of control, Jenney's calls become more desperate, more frequent. Billy, struggling with the deteriorating relationship with his depressed father, is the only one who understands. Through her pain, he sees hope. Through her tears, he feels her heart. And through her despair, he finds love. But is that enough?
Acclaimed author Janet Ruth Young has written a stunning and powerful story with no easy answers; it is about pain and heartbreak, reality and illusion, and finding redemption and the strength to forgive in the darkest of times.
"She was a girl talking to me in the dark."
Do any of these opening lines grab your attention? What are your favorite first lines that you've read lately?