"Waiting on" Wednesday is a weekly event hosted by Jill at
Breaking the Spine
that spotlights upcoming releases that we're eagerly anticipating.
This week's selection is: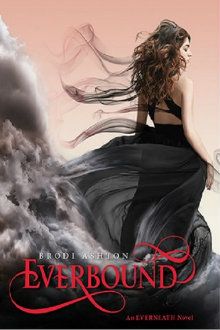 EVERBOUND
By: Brodi Ashton
Published By: Balzer + Bray
Release Date: Jan. 22, 2013
Preorder the Book: Amazon
Note: Everbound is the second book in the
Everneath
trilogy, and the summary below may contain spoilers.
Goodreads Summary: Nikki Beckett could only watch as her boyfriend, Jack, sacrificed himself to save her, taking her place in the Tunnels of the Everneath for eternity — a debt that should've been hers. She's living a borrowed life, and she doesn't know what to do with the guilt. And every night Jack appears in her dreams, lost and confused and wasting away.

Desperate for answers, Nikki turns to Cole, the immortal bad boy who wants to make her his queen — and the one person least likely to help. But his heart has been touched by everything about Nikki, and he agrees to assist her in the only way he can: by taking her to the Everneath himself.

Nikki and Cole descend into the Everneath, only to discover that their journey will be more difficult than they'd anticipated — and more deadly. But Nikki vows to stop at nothing to save Jack — even if it means making an incredible sacrifice of her own.

In this enthralling sequel to Everneath, Brodi Ashton tests the bonds of destiny and explores the lengths we'll go to for the ones we love.
Why it's wanted:
I really enjoyed Everneath, a retelling of the Persephone myth, and I'm looking forward to seeing how the story continues!