"Waiting on" Wednesday is a weekly event hosted by Jill at
Breaking the Spine
that spotlights upcoming releases that we're eagerly anticipating.
This week's selection is: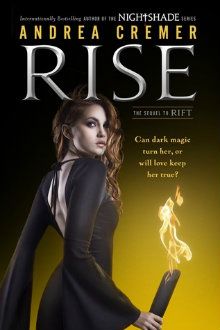 RISE
By: Andrea Cremer
Published By: Philomel
Release Date: Jan. 8, 2013
Preorder the Book: Amazon
Note: Rise is the second of the Nightshade Prequels, following
Rift
, and the summary below may contain spoilers.
Goodreads Summary: The sequel to Rift and the prequel to the New York Times bestselling novel Nightshade.

Everything Conatus stands for is at risk. Hoping to gather enough resistance to save their order, Ember and Barrow attempt a desperate escape. But fate offers little mercy. When their mission is exposed, the couple face relentless pursuit by the supernatural horrors that act on the commands of Eira's ally: the mysterious Bosque Mar. A shocking revelation forces Ember out of hiding, sending her back into the heart of dark magic at Tearmunn keep, where she must convince her old friend Alistair of her love or face dire consequences. Ember's deception offers the only chance for the resistance to succeed, but what she discovers in the shadows beneath the keep will shatter her world and bring about the Witches' War.

Richly sensual and full of magic, action and danger, Andrea Cremer's fifth book set in the Nightshade world is an edge-of-your-seat page turner.

In this enthralling sequel to Everneath, Brodi Ashton tests the bonds of destiny and explores the lengths we'll go to for the ones we love.
Why it's wanted:
I loved Andrea Cremer's Nightshade trilogy, and Rift may have been even better. Rise is one of my most-anticipated books for 2013!