I'm very excited to be one of the many blogs participating in Teaser Tuesdays! TT is a weekly meme hosted by MizB at Should Be Reading. To participate:


* Grab your current read
* Open to a random page
* Share two "teaser" sentences from somewhere on that page
* BE CAREFUL NOT TO INCLUDE SPOILERS!
(Make sure that what you share doesn't give too much away! You don't want to ruin the book for others!)
* Share the title & author, too, so that other TT participants can add the book to their TBR Lists if they like your teasers!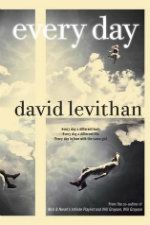 "The moment you fall in love feels like it has centuries behind it, generations - all of them rearranging themselves so that this precise, remarkable intersection could happen. In your heart, in your bones, no matter how silly you know it is, you feel that everything has been leading to this, all the secret arrows were pointing here, the universe and time itself have crafted this long ago, and you are just now realizing it, you are just now arriving at the place you were always meant to be."



p. 23 (ARC) from EVERY DAY by David Levithan
Please share your teasers - post them or link to your blog!