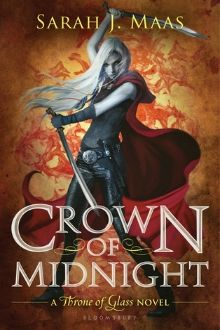 CROWN OF MIDNIGht
By: Sarah J. Maas
Published By: Bloomsbury USA Children's Books
Release Date: Aug. 27, 2013
Series: Throne of Glass #2
Pages: 418
Genre: Fantasy
Reading Level: Young Adult
Source: ALA
Buy the Book: Amazon
Goodreads Summary: May contain spoilers if you have not read Throne of Glass.

From the throne of glass rules a king with a fist of iron and a soul as black as pitch. Assassin Celaena Sardothien won a brutal contest to become his Champion. Yet Celaena is far from loyal to the crown. She hides her secret vigilantly; she knows that the man she serves is bent on evil.

Keeping up the deadly charade becomes increasingly difficult when Celaena realizes she is not the only one seeking justice. As she tries to untangle the mysteries buried deep within the glass castle, her closest relationships suffer. It seems no one is above questioning her allegiances—not the Crown Prince Dorian; not Chaol, the Captain of the Guard; not even her best friend, Nehemia, a foreign princess with a rebel heart.

Then one terrible night, the secrets they have all been keeping lead to an unspeakable tragedy. As Celaena's world shatters, she will be forced to give up the very thing most precious to her and decide once and for all where her true loyalties lie... and whom she is ultimately willing to fight for.

First Thought After Finishing: Holy game changer, Batman! This fantastic story just got a lot more interesting.
Celaena is back with all of the favorite characters from throne of Glass. After overcoming all of her trials, she's hoping life can settle down. Instead, she's being used more than she would like as an assassin, she has otherwordly orders to discover a secret about her king, and she has to work out her feelings about Chaol. As it turns out, there is no rest for Adarlan's Assassin, and only more fighting to come if she is to have any hope of peace.
I started this book having not read Throne of Glass for years. A few of the details were fuzzy, but for the most part, I remembered the story--a tribute to the brilliant writing of Sarah J. Maas. Everything I loved about the first story was here again. Celaena is still a fierce warrior, only now her battle is focused on those close to her--and on protecting her secrets. In a world full of secrets and long-hidden magic, nobody can be completely honest with others, let alone with themselves. The fighting and the intrigue kept me turning page after page.
Then there was Chaol. We get to learn more about him in this book and see much more of his interaction with Celaena, which I loved. Chaol appears to be the strong (very strong) silent type, but there is even more to love. Nehemia is her usual wise, sweet self, and Dorian has to make important decisions about who he wants to be. Several new characters also play an important role. I especially enjoyed the cheekiness of Mort, whose interactions with Celaena were entertaining.
This book really began to show the grand scope of this series. I have always loved epic fantasy, and I'm happy that this will be such a complex story. I would hate to say goodbye to these characters or this world anytime soon.
Most Memorable Aspect: Chaol. I loved him from the first book, and he remains one of my favorite male YA leads.