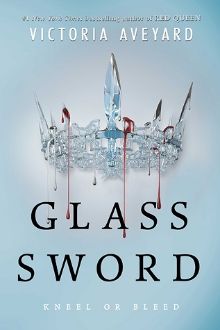 GLASS SWORD
By: Victoria Aveyard
Published By: HarperTeen
Release Date: February 9, 2016
Series: Red Queen (Book 2)
Pages: 444
Genre: Fantasy
Reading Level: Young Adult
Source: Borrowed
Buy the Book: Amazon
Goodreads Summary: May contain spoilers for Red Queen.

If there's one thing Mare Barrow knows, it's that she's different.

Mare Barrow's blood is red—the color of common folk—but her Silver ability, the power to control lightning, has turned her into a weapon that the royal court tries to control.

The crown calls her an impossibility, a fake, but as she makes her escape from Maven, the prince—the friend—who betrayed her, Mare uncovers something startling: she is not the only one of her kind.

Pursued by Maven, now a vindictive king, Mare sets out to find and recruit other Red-and-Silver fighters to join in the struggle against her oppressors.

But Mare finds herself on a deadly path, at risk of becoming exactly the kind of monster she is trying to defeat.

Will she shatter under the weight of the lives that are the cost of rebellion? Or have treachery and betrayal hardened her forever?

The electrifying next installment in the Red Queen series escalates the struggle between the growing rebel army and the blood-segregated world they've always known—and pits Mare against the darkness that has grown in her soul.

First Thought After Finishing: That can't be the last page!
Glass Sword picks up right where Red Queen leaves off, continuing the story in a politically unstable world of Reds and Silvers. Mare has tasked herself with finding all of the other newbloods to keep them safe and help them understand their new abilities. In the midst of her search and her mission to stay one step ahead of a political uprising, she has to try and come to terms with her feelings about two vastly different boys.
"I cling to Cal, Kilorn, Shade, to saving all of the newbloods I can, because I am afraid of waking up to emptiness, to a place where my friends and family are gone and I am nothing but a simple bolt of lightning in the blackness of a lonely storm. If I am a sword, I am a sword made of glass, and I feel myself beginning to shatter."
Once again, I loved the scope and creativity in this series. Just like Red Queen, this book is quite a thrill ride and a guessing game. Even though it isn't always her intention, Mare lives on the edge of danger, and the adrenaline from flying just under the radar is almost as exciting as the well-crafted fight scenes. The abilities of characters continue to surprise me, and they are used in inventive ways. The romantic side of the story does take a backseat to the action, it doesn't disappear by any means. So much happens in this book, and it definitely makes me excited to see what will come in the next one.
As much as I enjoyed being back in this world, a couple of things stood out to me. Mare was always concerned with reading people, determining if they were lying, and interpreting their thoughts. Sometimes the message of "Anyone can betray everyone" felt a little heavy-handed. Even though the book is filled with secrets and questions needing answers, sometimes it would be nice to figure things out without Mare's guidance. My only other complaint is the ending—how am I supposed to wait for months until the next book comes out? That's more torture than Silent Stone to Silvers.
Most Memorable Aspect: Cal is the kind of character that you can't get out of your head. I wish there were chapters from his perspective, because I'd love to know more about him.