"Waiting on" Wednesday is a weekly event hosted by Jill at
Breaking the Spine
that spotlights upcoming releases that we're eagerly anticipating.

This week's selection is: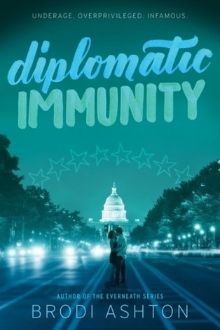 DIPLOMATIC IMMUNITY
By: Brodi Ashton
Published By: Balzer + Bray
Release Date: Sept. 6, 2016
Preorder the Book: Amazon
Goodreads Summary: Aspiring reporter Piper Baird decides to write a scathing exposé on the overprivileged students at an elite Washington, DC, school, only for her life to change when she begins to fall for the story's main subject, in this new realistic contemporary romance from Brodi Ashton, the author of the Everneath trilogy.

Raucous parties, privileged attitudes, underage drinking, and diplomatic immunity...it's all part of student life on Embassy Row.

Piper Baird has always dreamed of becoming a journalist. So when she scores a scholarship to exclusive Chiswick Academy in Washington, DC, she knows it's her big opportunity. Chiswick offers the country's most competitive prize for teen journalists—the Bennington scholarship—and winning will ensure her acceptance to one of the best schools in the country.

Piper isn't at Chiswick for two days before she witnesses the intense competition in the journalism program—and the extreme privilege of the young and wealthy elite who attend her school. And Piper knows access to these untouchable students just might give her the edge she'll need to blow the lid off life at the school in a scathing and unforgettable exposé worthy of the Bennington.

The key to the whole story lies with Rafael Amador, the son of the Spanish ambassador—and the boy at the center of the most explosive secrets and scandals on Embassy Row. Rafael is big trouble—and when he drops into her bedroom window one night, asking for help, it's Piper's chance to get the full scoop. But as they spend time together, Piper discovers that despite his dark streak, Rafael is smart, kind, funny, and gorgeous—and she might have real feelings for him. How can she break the story of a lifetime if it could destroy the boy she just might love?

Why it's Wanted:
Romance, political intrigue, and an international love interest? Yes, please! I loved Brodi Ashton's writing before, so I'm eager to see how she does with a new genre!