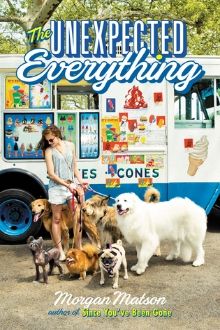 THE UNEXPECTED EVERYTHING
By: Morgan Matson
Published By: Simon & Schuster Books for Young Readers
Release Date: May 3, 2016
Series: None
Pages: 517
Genre: Contemporary
Reading Level: Young Adult
Source: Bought
Buy the Book: Amazon
Goodreads Summary: Andie had it all planned out.

When you are a politician's daughter who's pretty much raised yourself, you learn everything can be planned or spun, or both. Especially your future.

Important internship? Check.

Amazing friends? Check.

Guys? Check (as long as we're talking no more than three weeks).

But that was before the scandal. Before having to be in the same house with her dad. Before walking an insane number of dogs. That was before Clark and those few months that might change her whole life.

Because here's the thing—if everything's planned out, you can never find the unexpected.

And where's the fun in that?

First Thought After Finishing: Only Morgan Matson could write a 500-page book about a summer with no plans and have such an engrossing story.
Andie has always had her future planned out. She want to be a doctor, and even in high school she has her summer program lined up. As the daughter of a US Congressman who is never home, and as a daughter still mourning the loss of her mother, she has kept everyone but her three best friends at arm's length. However, one mistake by an employee in her dad's office derails all of her plans. For once, Andie has to go with the flow, piece together something she never would have imagined doing, and figure out a new plan along the way.
"Now, being in this moment, on the cusp of something happening, made me wonder why I'd been rushing through it all these years. Or maybe I hadn't. Maybe I'd just been waiting for this moment, right now."
Andie's story reminded me a lot of my own. I always had a plan for what I wanted to do, and I like having all of my ducks in a row. However, when I moved to Salt Lake, I had no definitive plan other than being with my friends. Even though I never would have guessed that my life would go in the direction it has, it has turned out to be really good. That was Andie's summer—several unexpected, even unwanted, choices that led to a summer she could never have planned if she'd tried.
With Andie came a great group of friends, and the friend group expands over the summer. Companions both human and canine had their role to play. While walking dogs, Andie meets Clark, who is exactly the opposite of guys that she would pick for herself but also exactly what the summer calls for. She is around for the ups and downs of her friends' lives, and she can reconnect with her father. This book wasn't full of twists and turns, but it was a sweet, real story full of the things that are important in life. Andie had a summer that I would want, with a guy you can't help but love, and adventures with friends that would make for perfect summer nights.
Most Memorable Aspect: The friendships between the characters reminded me of my group of friends. I liked that the group was an actual close-knit group and enjoyed knowing all of the characters.