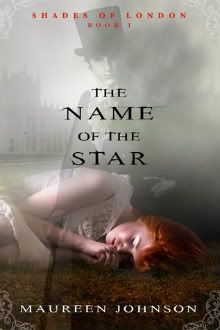 THE NAME OF THE STAR by Maureen Johnson
The day Louisiana teenager Rory Deveaux arrives in London marks a memorable occasion. For Rory, it's the start of a new life at a London boarding school. But for many, this will be remembered as the day a series of brutal murders broke out across the city, gruesome crimes mimicking the horrific Jack the Ripper events of more than a century ago.
Soon "Rippermania" takes hold of modern-day London, and the police are left with few leads and no witnesses. Except one. Rory spotted the man police believe to be the prime suspect. But she is the only one who saw him. Even her roommate, who was walking with her at the time, didn't notice the mysterious man. So why can only Rory see him? And more urgently, why has Rory become his next target? In this edge-of-your-seat thriller, full of suspense, humor, and romance, Rory will learn the truth about the secret ghost police of London and discover her own shocking abilities. (From Goodreads)
You can read my review here.
~INTERVIEW~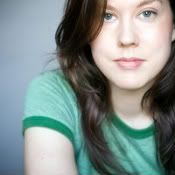 I'm very excited to have
Maureen Johnson
here today. I was lucky enough to be able to interview her in person, and if you have talked with her on twitter, you know how much fun conversations with her can be! Please take a few minutes to learn more about this amazing author!
What kind of research did you do for this book?
I researched for a year and a half, a lot about Jack the Ripper, the city of London in general, specifically anything underground. As much underground as above actually, maybe more. I researched gravesites, the sewer system, tubes, and how London was constructed. I did a lot of looking into the tube and the history of how tubes are run and maintained. And then of course the disposal of bodies, a lot about moving bodies, and the history of burials.
What are some of the more interesting Jack the Ripper stories that you found in the process?
There is always a theory, and every year or two someone solves the case. There other day I turned on the TV and there was a new theory that was supposed to be the definitive solution to the case. It has been active for 123 years and been solved more than any other case. It almost doesn't make sense why anyone would care, because he murdered five prostitutes at a time when prostitutes weren't even considered to be people by society. The only remotely good thing that came out of it was that the prostitutes were recognized as victims. The murders were weird for the violence of the crimes but not something that should have been making the news. The tabloids made it scary and gave the murderer a scary name; this was one of the first instances of media hype. This is what was interesting, if it were to happen again, if someone recreated it. It would be morbid, but everyone would sit and watch. Basically, the fact that the story exists is one of the more interesting aspects. Some stories are plausible, and some suspects are plausible, such as Prince Albert or Queen Victoria's doctor. Then again, it could have been a random guy, a mental patien, or a doctor with a mental illness. There was an American named Tumbletee, who was an incredibly weird guy that collected women's jars in internal organs. If he wasn't behind Jack the Ripper, he was definitely up to something. We're really never going to know unless somebody turns over something really weird that's been lost, but we're going to try to keep solving it.
If you were in Rory's shoes, how would you respond to Rippermania?
Not well. Not well at all. As for Rory, she's dealing with the psychological fallout of the murders and being the only witness. I tried to think of what it would be like to be in her shoes, to be in a new atmosphere, trying to figure out the school system, make friends, and deal with the workload. Then you become a witness and think you're crazy, then you realize that you have power and you're in the middle of everything. I think that being in the middle of things helps you to get over it faster. Then you have no time to really dwell on it.
The Name of the Star is different from many of the other books you've written. Did your writing process change at all? What challenges did you have that were different from the others?
The writing process didn't change because of the type of book; well, it did a little. I was a huge mystery buff as a kid. One of my first stories was Sherlock Holmes, and I used to read two Agatha Christie books a day. I always wanted to write a mystery. But to write a mystery, you need to know how it's going to end. I've written some comedy, some realistic fiction, some adventure, but for this one, I had to make sure everything was pinned down first. I did some outlining and a lot of research. I started by writing a mini-version, writing histories and appendices, the history of the squad, mini-histories of MI5 and the police force. I talked with scientists to work out some explanations, such as what could be a good conductor for their tool. More time went into writing this book ahead of time. It made it easier to write, actually. I really did it slowly, so before I showed the book to anyone, I knew exactly what I was doing. I could talk about all the books in the trilogy. I had documentation.
Out of all of the characters you've written, which do you connect with the most? Which did you enjoy writing the most?
Behaviorally I'm most like Rory. I'm also like Scarlett from the Scarlett series, though she's probably more together than I am. As for who I enjoyed most, I love them all. I enjoy whatever I'm working on. Though I had the most fun doing the Scarlett series and Name of the Star.
If someone wrote a book about your life, what would the title be?
See, I make up titles for everyone else's autobiography. I made up a lot for John Green. I don't know, but I'd want it to have a good title.
I know you have strong opinions on banning books and the power of YA to change lives. What were some of the books that made the biggest impression on you?
The biggest one was The Great Gatsby, which I read over and over again. I didn't understand all of it, but it pays off throughout your life. I also read a lot of Hemingway. I was really into writes from the 1920s and 1930s and the American greats like Mark Twain. I really didn't' read a lot of women except for Dorothy Parker. And I read a lot of mysteries. I would have had more access now, but back then I didn't have a school library, I didn't drive, and I didn't read as much as I could. Now I could have been more on top of it.
What can we expect from the second book?
It starts where the first book ends, with Rory in therapy in Bristol. She does go back to Wexford though. It features a lot of what's underneath the city. It's a different level of the history. And there are so many problems; Rory's life is problematic.
Many thanks to Maureen for the interview! If you haven't read The Name of the Star, you can find it on Amazon
here
.