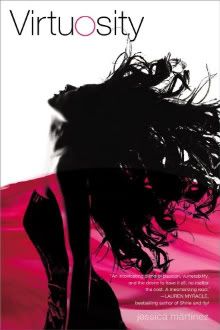 VIRTUOSITY
By: Jessica Martinez
Published By: Simon Pulse
Release Date: Oct. 18, 2011
Series: None
Pages: 304
Genre: Contemporary
Reading Level: Young Adult
Source: BEA
Buy the Book: Amazon
Goodreads Summary: Now is not the time for Carmen to fall in love. And Jeremy is hands-down the wrong guy for her to fall for. He is infuriating, arrogant, and the only person who can stand in the way of Carmen getting the one thing she wants most: to win the prestigious Guarneri competition. Carmen's whole life is violin, and until she met Jeremy, her whole focus was winning. But what if Jeremy isn't just hot...what if Jeremy is better?

Carmen knows that kissing Jeremy can't end well, but she just can't stay away. Nobody else understands her--and riles her up--like he does. Still, she can't trust him with her biggest secret: She is so desperate to win she takes anti-anxiety drugs to perform, and what started as an easy fix has become a hungry addiction. Carmen is sick of not feeling anything on stage and even more sick of always doing what she's told, doing what's expected.

Sometimes, being on top just means you have a long way to fall....
I love books about musicians. Granted, I may be slightly biased, but I think that serious musicians, especially in high school, aren't always understood well and are often shunned by others who aren't as serious about music. I think it is great that books like this can help show others what life is like for them.
Carmen is a child prodigy and one of the best violinists in the world. She has toured the globe, played in some of the best concert venues, and even been homeschooled so that she can devote more time to practicing and performing. But one disastrous performance led her to Inderol, an anti-anxiety drug that she takes to get through her performances...and her lessons. Soon she's relying on these much more than she should. Enter Jeremy, the arrogant but oh-so-hot competition. They wind up talking one night, and Jeremy's description of performing causes Carmen to begin to question many things about her own musical life. As the prestigious Guarneri competition grows closer, Carmen finds herself more drawn to Jeremy and more inclined to rebel against her mother the manager. When an unexpected event calls the entire competition into question, Carmen must make an important decision - what is she willing to lose in order to win?
Virtuosity has a little bit of everything YA - the struggle to define yourself, the question of what do you really want from life, striving for independence from parents, and romance - blended together in a fresh and engaging way. I found Carmen's character incredibly easy to relate to. But even if you're not a musician with performance anxiety, we all have things that we dread. No matter what profession we're in or what our hobby is, there is always somebody who is better. This book explores those issues. And I loved the budding romance between Carmen and Jeremy. The cynicism of Carmen's mother Diana toward their relationship sounded just like the doubts that we all let ourself have. Virtuosity embarks on an emotional roller coaster that doesn't stop until the last page. The feelings, struggles, and situations were incredibly vivid, which made for a very intense (in a good way!) read.
There were a few things about this book that I found frustrating, however. Carmen's mother, for instance. She is your classic overbearing, controlling mother (not to mention she's Carmen's manager), and I wanted to defy her right along with Carmen. Even still, I couldn't hate her completely - unfortunate circumstances forced her to give up her dream, and so she shifted the pressure of success onto Carmen. Then there was something that Jeremy did. While some people may find it endearing, I was actually very annoyed with it. So, if you are like me, keep reading - you will be glad you did.
You do not have to be a musician to appreciate the depth of this book. Complete with the butterflies and beauty of first love and the quest of one girl to find her place in the world, Virtuosity is a debut not to be missed!