I'm very excited to be one of the many blogs participating in Teaser Tuesdays! TT is a weekly meme hosted by MizB at Should Be Reading. To participate:


* Grab your current read
* Open to a random page
* Share two "teaser" sentences from somewhere on that page
* BE CAREFUL NOT TO INCLUDE SPOILERS!
(Make sure that what you share doesn't give too much away! You don't want to ruin the book for others!)
* Share the title & author, too, so that other TT participants can add the book to their TBR Lists if they like your teasers!
Here is my teaser: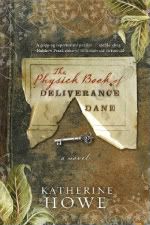 "'Oh,' she breathed, eyes widening at the view of the city stretching away beneath her feet. He placed on hand over hers on the railing, and his skin felt warm and dry against her knuckles. His other hand traced her jaw, coming to a rest alongside her neck and ear, and as she turned to ask him a question, his lips met hers in a deep kiss that lasted until the orange curtain of the setting sun had been pulled completely away to reveal the stars glimmering overhead."



p. 147 from THE PHYSICK BOOK OF DELIVERANCE DANE
by Katherine Howe
Please share your teasers - post them or link to your blog!