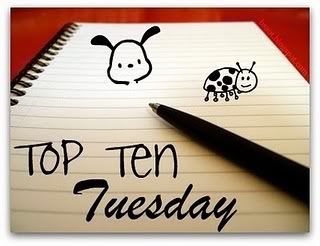 Top Ten Tuesday is a weekly meme hosted by
The Broke and the Bookish
. Each week there will be a new topic and a new list to make. Be sure to stop by the host blog to see all of the other blogs participating!
This week's topic:


Top Ten Books I Wish I Could Read Again for the First Time
1. The Sword of Truth series by Terry Goodkind: As much as I love rereading this series and finding something new every time, the immensity and scope of the writing are just never as shocking when I know what's coming.
2. The Harry Potter series: I've seen this on a few people's lists already, and it's pretty obvious why. The plot twists and the chills we had reading it the first time just aren't quite the same on rereads.
3. The Twilight Saga: Yes, I know, Twilight. If I reread these books now, I don't think I would have the same emotional reaction as I did when I read them the first time.
4. The Hunger Games: While I think I could reread Mockingjay and be okay, the first two books are so action-driven that the suspense would be missing.
5. The Chronicles of Narnia: Some of the magic and wonder from the first time reading these books just isn't as strong on rereads.
6. Forbidden by Tabitha Suzuma: The impact of the ending only works when you have no idea it's coming.
7. Jane Eyre by Charlotte Bronte: This is one of my favorite classics and there's something magical about it the first time you read it.
8. Little Women by Louisa May Alcott: Same as above.
9. If I Stay by Gayle Forman: This book is beautiful, but if you know her decision at the end, it colors the rest of the story.
10. Night by Elie Weisel: This book is so haunting, and really makes an impact the first time you read it.
What made your Top Ten list? Please leave a comment or link to your blog!