Book Blogger Hop is a weekly meme hosted by Jennifer at
Crazy-for-Books
. In the spirit of the Twitter Friday Follow, the Book Blogger Hop is a place just for book bloggers and readers to connect and share our love of the written word! This weekly BOOK PARTY is an awesome opportunity for book bloggers to connect with other book lovers, make new friends, support each other, and generally just share our love of books! It will also give blog readers a chance to find other book blogs to read! So visit Crazy-for-Books to grab the logo, post about the Hop on your blog, and start HOPPING through the list of blogs that are posted in the Linky list there!
This week's question:
"What is your favorite spooky book (i.e. mystery/suspense, thriller, ghost story, etc.)?"
Even though I loved mysteries as a child (Sweet Valley and Babysitter's Club mysteries, anyone?), I actually read very few thrillers and mysteries now. I have read several ghost stories recently, however. I'm not sure what my favorite of all time would be, but my favorite recently was
Texas Gothic
by Rosemary Clement-Moore. It has ghosts, witches, and a little romance!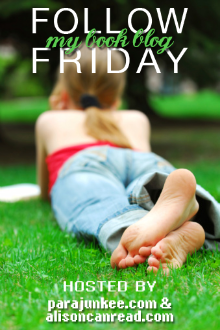 Follow Friday is hosted by
Parajunkee
and
Allison Can Read
. Visit either of their blogs for complete rules of the following fun!
This week's question:
"If you could have characters from a particular book meet and form an epic storyline with characters from a particular TV series, which would you choose and why?"
Oh dear. I don't even remember the last time I watched TV. One mix that comes to mind is the cast of the Big Bang Theory with the characters from Texas Gothic - I would love to see Sheldon and Phin in a debate.
Other than that, I'm not sure...I'll have to keep thinking!
What are your answers? Please leave a comment or a link to your blog!