Book Blogger Hop is a weekly meme hosted by
Jennifer
at
Crazy-for-Books
. In the spirit of the Twitter Friday Follow, the Book Blogger Hop is a place just for book bloggers and readers to connect and share our love of the written word! This weekly BOOK PARTY is an awesome opportunity for book bloggers to connect with other book lovers, make new friends, support each other, and generally just share our love of books! It will also give blog readers a chance to find other book blogs to read! So visit Crazy-for-Books to grab the logo, post about the Hop on your blog, and start HOPPING through the list of blogs that are posted in the Linky list there!
This week's question:
"What is your favorite type of candy?"
Anything chocolate! I love Nutrageous, Snickers, and Hershey's Cookies and Cream bars. I should probably stop my list there because, if I keep going, I will list almost the whole candy aisle. And it is precisely that aisle that I've been trying to avoid in the grocery store!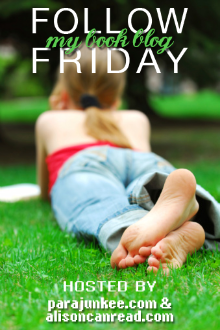 Follow Friday is hosted by
Parajunkee
and
Allison Can Read
. Visit either of their blogs for complete rules of the following fun!
This week's question:
"What superhero is your alter-ego?"
I really have no idea! I was never big on superhero shows. The only person who comes to mind is Kimberly, the pink Power Ranger. She was always the one I wanted to play as a kid, even if I didn't have her butt-kicking abilities!
What are your answers? Please leave a comment or a link to your blog!