Opening Lines is a new feature here on Portrait of a Book that showcases the first lines of recent and/or upcoming releases. If you're looking for your next read, let these first lines help you decide!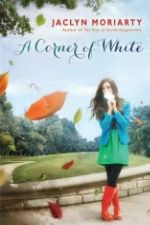 A CORNER OF WHITE
By: Jaclyn Moriarty
Published By: Arthur A. Levine Books
Release Date: April 1, 2013
Buy the Book: Amazon
The first in a rousing, funny, genre-busting trilogy from bestseller Jaclyn Moriarty!
This is a tale of missing persons. Madeleine and her mother have run away from their former life, under mysterious circumstances, and settled in a rainy corner of Cambridge (in our world).
Elliot, on the other hand, is in search of his father, who disappeared on the night his uncle was found dead. The talk in the town of Bonfire (in the Kingdom of Cello) is that Elliot's dad may have killed his brother and run away with the Physics teacher. But Elliot refuses to believe it. And he is determined to find both his dad and the truth.
As Madeleine and Elliot move closer to unraveling their mysteries, they begin to exchange messages across worlds -- through an accidental gap that hasn't appeared in centuries. But even greater mysteries are unfolding on both sides of the gap: dangerous weather phenomena called "color storms;" a strange fascination with Isaac Newton; the myth of the "Butterfly Child," whose appearance could end the droughts of Cello; and some unexpected kisses...
"Madeleine Tully turned fourteen yesterday, but today she did not turn anything."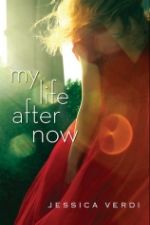 MY LIFE AFTER NOW
By: Jessica Verdi
Published By: Sourcebooks Fire
Release Date: April 2, 2013
Buy the Book: Amazon
Lucy just had the worst week ever. Seriously, mega bad. And suddenly, it's all too much—she wants out. Out of her house, out of her head, out of her life. She wants to be a whole new Lucy. So she does something the old Lucy would never dream of.
And now her life will never be the same. Now, how will she be able to have a boyfriend? What will she tell her friends? How will she face her family?
Now her life is completely different...every moment is a gift. Because now she might not have many moments left.
"The drama club homeroom was buzzing with post-summer chatter, but I didn't look up from my copy of Romeo and Juliet."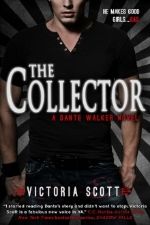 THE COLLECTOR
By: Victoria Scott
Published By: Entangled Teen
Release Date: March 25, 2013
Buy the Book: Amazon
He makes good girls...bad.
Dante Walker is flippin' awesome, and he knows it. His good looks, killer charm, and stellar confidence have made him one of hell's best—a soul collector. His job is simple: weed through humanity and label those round rears with a big red good or bad stamp. Old Saint Nick gets the good guys, and he gets the fun ones. Bag-and-tag.
Sealing souls is nothing personal. Dante's an equal-opportunity collector and doesn't want it any other way. But he'll have to adjust, because Boss Man has given him a new assignment:
Collect Charlie Cooper's soul within ten days.
Dante doesn't know why Boss Man wants Charlie, nor does he care. This assignment means only one thing to him, and that's a permanent ticket out of hell. But after Dante meets the quirky Nerd Alert chick he's come to collect, he realizes this assignment will test his abilities as a collector…and uncover emotions deeply buried.
"I'm in a slump, off my game, throwing up bricks, swinging and missing."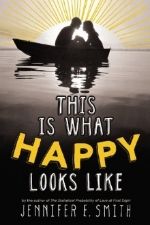 THIS IS WHAT HAPPY LOOKS LIKE
By: Jennifer E. Smith
Published By: Poppy
Release Date: April 2, 2013
Buy the Book: Amazon
If fate sent you an email, would you answer?
When teenage movie star Graham Larkin accidentally sends small town girl Ellie O'Neill an email about his pet pig, the two seventeen-year-olds strike up a witty and unforgettable correspondence, discussing everything under the sun, except for their names or backgrounds.
Then Graham finds out that Ellie's Maine hometown is the perfect location for his latest film, and he decides to take their relationship from online to in-person. But can a star as famous as Graham really start a relationship with an ordinary girl like Ellie? And why does Ellie want to avoid the media's spotlight at all costs?
"It was not all that different from the circus, and it came to town in much the same way."
Do any of these opening lines grab your attention? What are your favorite first lines that you've read lately?