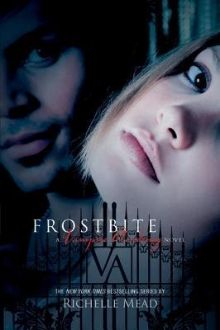 FROSTBITE
By: Richelle Mead
Published By: Razorbill
Release Date: April 10, 2008
Series: Vampire Academy (#2)
Pages: 327
Genre: Paranormal
Reading Level: Young Adult
Source: Bought
Buy the Book: Amazon
Note: Frostbite is the second book in the Vampire Academy series. The following summary and review may contain spoilers if you have not read
Vampire Academy
.
Goodreads Summary: Rose loves Dimitri, Dimitri might love Tasha, and Mason would die to be with Rose...

It's winter break at St. Vladimir's, but Rose is feeling anything but festive. A massive Strigoi attack has put the school on high alert, and now the Academy's crawling with Guardians—including Rose's hard-hitting mother, Janine Hathaway. And if hand-to-hand combat with her mom wasn't bad enough, Rose's tutor Dimitri has his eye on someone else, her friend Mason's got a huge crush on her, and Rose keeps getting stuck in Lissa's head while she's making out with her boyfriend, Christian! The Strigoi are closing in, and the Academy's not taking any risks... This year, St. Vlad's annual holiday ski trip is mandatory.

But the glittering winter landscape and the posh Idaho resort only create the illusion of safety. When three friends run away in an offensive move against the deadly Strigoi, Rose must join forces with Christian to rescue them. But heroism rarely comes without a price...
I really enjoyed the first Vampire Academy book, and I was eager to continue the series. Frostbite was a great sequel, continuing the story while developing more of the world and bringing in new, intriguing characters. And best of all, there was more Dimitri.
After being on the run for two years to try and protect her best friend Lissa, Rose knows better than most Guardians that Moroi are never safe. However, in the wake of an unprecedented Strigoi attack just before the Christmas holidays, times seem more uncertain than ever. Moroi families with students at the Academy (and their Guardians) decide to spend the break together at a ski resort for safety. But Rose wasn't prepared for her mother to show up. She wasn't prepared for Adrian, or Tasha, or Dimitri's possible relationship with Tasha. And she certainly wasn't prepared for the changes that this Christmas holiday will mean for them all...
Danger, adventure, and (a lot of) romance - those three words can sum up Frostbite. But at the heart of it, Frostbite was really about Rose's evolution. She's slowly turning into the guardian she's meant to be, but there are still times that she can't avoid making rash decisions or giving into impulses. Sometimes she acts her age, but at other times she has insights and behavior that are definitely more mature. I liked seeing how Rose tried to develop into a leader, thinking not just about Lissa but about the bigger picture. This book also shows Rose with her mother, something we don't usually see in books with boarding schools, but I appreciated getting to see that side of Rose. Overall, she became stronger mentally and emotionally as well as physically, and I'm excited to see how she continues growing in the next books.
In addition to Rose's journey, there is even more action and adventure in Frostbite than in Vampire Academy. We see more of Mead's vampire world in this book as Rose interacts with other Guardians and Moroi; new characters are also introduced (like Adrian), and I am very curious to see how they affect the next books. There were also a couple of events that I never expected, and I have to say, I appreciate that Mead doesn't seem to hold anything back. Finally...no Vampire Academy review would be complete without mention of Dimitri. As far as YA books go, he's definitely near the top of the list of book boyfriends.
I love the world and characters that Richelle Mead has created in Vampire Academy. I can't wait to read Shadow Kiss!