Opening Lines is a new feature here on Portrait of a Book that showcases the first lines of recent and/or upcoming releases. If you're looking for your next read, let these first lines help you decide!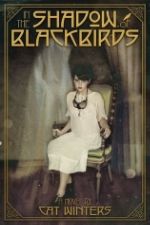 IN THE SHADOW OF BLACKBIRDS
By: Cat Winters
Published By: Amulet Books
Release Date: April 2, 2013
Buy the Book: Amazon
In 1918, the world seems on the verge of apocalypse. Americans roam the streets in gauze masks to ward off the deadly Spanish influenza, and the government ships young men to the front lines of a brutal war, creating an atmosphere of fear and confusion. Sixteen-year-old Mary Shelley Black watches as desperate mourners flock to séances and spirit photographers for comfort, but she herself has never believed in ghosts. During her bleakest moment, however, she's forced to rethink her entire way of looking at life and death, for her first love—a boy who died in battle—returns in spirit form. But what does he want from her?
Featuring haunting archival early-twentieth-century photographs, this is a tense, romantic story set in a past that is eerily like our own time.
"I stepped inside the railroad car, and three dozen pairs of eyes peered my way."
WHITE LINES
By: Jennifer Banash
Published By: Putnam Juvenile
Release Date: April 4, 2013
Buy the Book: Amazon
A gritty, atmospheric coming of age tale set in 1980s New York City.
Seventeen-year-old Cat is living every teenager's dream: she has her own apartment on the Lower East Side and at night she's club kid royalty, guarding the velvet rope at some of the hottest clubs in the city. The night with its crazy, frenetic, high-inducing energy—the pulsing beat of the music, the radiant, joyful people and those seductive white lines that can ease all pain—is when Cat truly lives. But her daytime, when real life occurs, is more nightmare than dream. Having spent years suffering her mother's emotional and physical abuse, and abandoned by her father, Cat is terrified and alone—unable to connect to anyone or anything. But when someone comes along who makes her want to truly live, she'll need to summon the courage to confront her demons and take control of a life already spinning dangerously out of control.
Both poignant and raw, White Lines is a gripping tale and the reader won't want to look away.
"I reach one hand out from beneath the warm dark of the quilt and turn off the alarm, the shrillness breaking the early morning silence."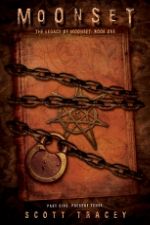 MOONSET
By: Scott Tracey
Published By: Flux
Release Date: April 8, 2013
Buy the Book: Amazon
Moonset, a coven of such promise . . . Until they turned to the darkness.
After the terrorist witch coven known as Moonset was destroyed fifteen years ago—during a secret war against the witch Congress—five children were left behind, saddled with a legacy of darkness. Sixteen-year-old Justin Daggett, son of a powerful Moonset warlock, has been raised alongside the other orphans by the witch Congress, who fear the children will one day continue the destruction their parents started.
A deadly assault by a wraith, claiming to work for Moonset's most dangerous disciple, Cullen Bridger, forces the five teens to be evacuated to Carrow Mill. But when dark magic wreaks havoc in their new hometown, Justin and his siblings are immediately suspected. Justin sets out to discover if someone is trying to frame the Moonset orphans . . . or if Bridger has finally come out of hiding to reclaim the legacy of Moonset. He learns there are secrets in Carrow Mill connected to Moonset's origins, and keeping the orphans safe isn't the only reason the Congress relocated them . . .
"There were two hundred forty-five students involved in the riot."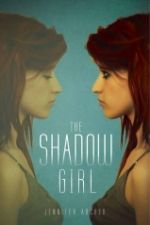 THE SHADOW GIRL
By: Jennifer Archer
Published By: Harper Teen
Release Date: April 9, 2013
Buy the Book: Amazon
Sometimes I forget for an hour or two that she's with me. Sometimes I convince myself that she was only a dream. Or that I'm crazy.
For as long as Lily Winston can remember, she has never been alone. Iris, a shadowy figure who mimics Lily's movements and whispers in her ear, is with her always—but invisible to the rest of the world. Iris is Lily's secret.
But when Lily's father is killed in a tragic accident, his cryptic final words suggest that he and Lily's mother have been keeping secrets of their own. Suddenly, Iris begins pushing Lily more than ever, possessing her thoughts and urging her to put together the pieces of a strange puzzle her father left behind. As she searches for answers, Lily finds herself drawn to Ty Collier, a mysterious new boy in town. Together, Lily and Ty must untangle a web of deception to discover the truth about her family, Iris . . . and Lily's own identity.
"Ty Colliver shivered as he paused in front of the Daily Grind coffee shop to wipe his boots on the mat beside the door."
Do any of these opening lines grab your attention? What are your favorite first lines that you've read lately?