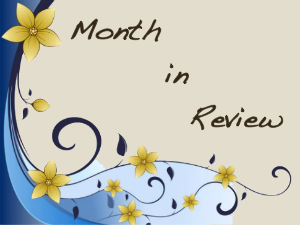 March seems like it has been both incredibly long and yet flown by. The first part of the month seems like forever ago, and yet the past week has been a blur between the Lover at Last release and all of the Holy Week services - and yes, I realize the irony of having those in the same week. Even though my blog was slower than I intended this month, I have posts planned for April that I'm very excited about, so be sure to check back throughout the month!
Books Reviewed:
Notes from Ghost Town by Kate Ellison
Things I Can't Forget by Miranda Kenneally
Dearly Departed by Lia Habel
Paranormalcy by Kiersten White
Snapshot Musings
This post series features discussions on a variety of topics - namely whatever bookish things are on my mind. One of my blogging goals for 2013 was to have more discussion posts, and this feature is how I'm holding myself accountable.
A "New Adult" Perspective
Opening Lines:
This feature showcases the first lines of upcoming or recent releases each week. Hopefully it will inspire a new read!
Opening Lines 13 (Week of March 3)
Opening Lines 14 (Week of March 10)
Opening Lines 15 (Week of March 17)
Opening Lines 16 (Week of March 24)
Go Indie:
Introducing: Go Indie
Fast Five:
Currently Reading: Frostbite by Richelle Mead / Halfway to the Grave by Jeaniene Frost
Favorite March Read: Lover at Last by J.R. Ward
Most Anticipated April Release: The Program by Suzanne Young
Total Books Read This Year: 20
Reading Next: This Is What Happy Looks Like by Jennifer E. Smith
What did your March look like? What books are you most excited about for April?