Opening Lines is a new feature here on Portrait of a Book that showcases the first lines of recent and/or upcoming releases. If you're looking for your next read, let these first lines help you decide!
ALSO KNOWN AS
By: Robin Benway
Published By: Bloomsbury Juvenile US
Release Date: Feb. 26, 2013
Buy the Book: Amazon
Being a 16-year-old safecracker and active-duty daughter of international spies has its moments, good and bad. Pros: Seeing the world one crime-solving adventure at a time. Having parents with super cool jobs. Cons: Never staying in one place long enough to have friends or a boyfriend. But for Maggie Silver, the biggest perk of all has been avoiding high school and the accompanying cliques, bad lunches, and frustratingly simple locker combinations.
Then Maggie and her parents are sent to New York for her first solo assignment, and all of that changes. She'll need to attend a private school, avoid the temptation to hack the school's security system, and befriend one aggravatingly cute Jesse Oliver to gain the essential information she needs to crack the case . . . all while trying not to blow her cover.
"I cracked my first lock when I was three."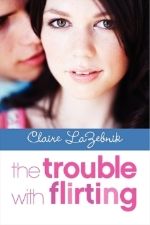 THE TROUBLE WITH FLIRTING
By: Claire LaZebnik
Published By: Harper Teen
Release Date: Feb. 26, 2013
Buy the Book: Amazon
Franny's supposed to be working this summer, not flirting. But you can't blame her when guys like Alex and Harry are around. . . .
Franny Pearson never dreamed she'd be attending the prestigious Mansfield Summer Theater Program. And she's not, exactly. She's working for her aunt, the resident costume designer. But sewing her fingers to the bone does give her an opportunity to spend time with her crush, Alex Braverman. If only he were as taken with the girl hemming his trousers as he is with his new leading lady.
When Harry Cartwright, a notorious flirt, shows more than a friendly interest in Franny, she figures it can't hurt to have a little fun. But as their breezy romance grows more complicated, can Franny keep pretending that Harry is just a carefree fling? And why is Alex suddenly giving her those deep, meaningful looks? In this charming tale of mixed messages and romantic near-misses, one thing is clear: Flirting might be more trouble than Franny ever expected.
"When Jasper Snowden's parents divorced, Jasper got to stay in the bedroom in the big house he'd always lived in, while his parents took turns living there with him."
DUALED
By: Elsie Chapman
Published By: Random House Books for Young Readers
Release Date: Feb. 26, 2013
Buy the Book: Amazon
You or your Alt? Only one will survive.
The city of Kersh is a safe haven, but the price of safety is high. Everyone has a genetic Alternate—a twin raised by another family—and citizens must prove their worth by eliminating their Alts before their twentieth birthday. Survival means advanced schooling, a good job, marriage—life.
Fifteen-year-old West Grayer has trained as a fighter, preparing for the day when her assignment arrives and she will have one month to hunt down and kill her Alt. But then a tragic misstep shakes West's confidence. Stricken with grief and guilt, she's no longer certain that she's the best version of herself, the version worthy of a future. If she is to have any chance of winning, she must stop running not only from her Alt, but also from love . . . though both have the power to destroy her.
Elsie Chapman's suspenseful YA debut weaves unexpected romance into a novel full of fast-paced action and thought-provoking philosophy. When the story ends, discussions will begin about this future society where every adult is a murderer and every child knows there is another out there who just might be better.
"I've buried nearly everyone I love."
REVENGE OF THE GIRL WITH THE GREAT PERSONALITY
By: Elizabeth Eulberg
Published By: Point
Release Date: March 1, 2013
Buy the Book: Amazon
A hilarious new novel from Elizabeth Eulberg about taking the wall out of the wallflower so she can bloom.
Don't mess with a girl with a Great Personality.
Everybody loves Lexi. She's popular, smart, funny...but she's never been one of those girls, the pretty ones who get all the attention from guys. And on top of that, her seven-year-old sister, Mackenzie, is a terror in a tiara, and part of a pageant scene where she gets praised for her beauty (with the help of fake hair and tons of makeup).
Lexi's sick of it. She's sick of being the girl who hears about kisses instead of getting them. She's sick of being ignored by her longtime crush, Logan. She's sick of being taken for granted by her pageant-obsessed mom. And she's sick of having all her family's money wasted on a phony pursuit of perfection.
The time has come for Lexi to step out from the sidelines. Girls without great personalities aren't going to know what hit them. Because Lexi's going to play the beauty game - and she's in it to win it.
"Applying butt glue to my sister's backside is, without question, not the first way I'd choose to spend a weekend."
Do any of these opening lines grab your attention? What are your favorite first lines that you've read lately?