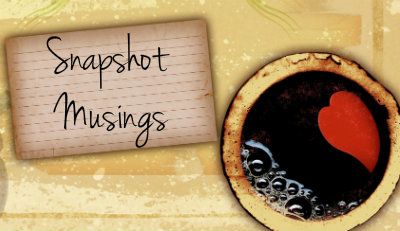 One of my blogging goals for 2013 was to have more discussion posts. I've said this for a long time, but somehow never quite write them. Having Snapshot Musings will hopefully encourage me to post more than just book reviews and regular memes. Some posts may be long, some short, and some mainly asking for opinions of fellow bloggers. If there's any topic you'd like to see featured, feel free to email me with the idea!
There has been a lot of discussion about New Adult books lately, and the validity of the genre. Although I've read a few of these posts, and I fully support New Adult books, I know that it's hard to sell them. So I was surprised to stumble across
Losing It
stocked at Barnes and Noble yesterday when I was there. This is a New Adult book I hadn't heard of before, but after seeing it, I've added it to my to-read list. So why all of the issues with new Adult? Is New Adult just simply Young Adult with more sex? A lot of people have offered opinions, including
Parajunkee
,
Lady With Books
, and
Julie at Bloggers[heart]Books
. (This is by no means an exhaustive list, but just a few posts I've come across.) Even though "new adult" seems to be the current buzzword, the genre doesn't seem to be growing in popularity. But in my opinion, this "genre" is one that deserves to be developed like YA was. Here are a few of the arguments against New Adult:
New Adult isn't new.

No, it's not. Books about twenty-somethings have been written for a long time, from Chloe Neill's Chicagoland Vampire series to Nicholas Sparks' Dear John to Tammara Webber's Easy. Technically Trish Doller's Something Like Normal is NA, and Rachel Caine's Morganville Vampire series begins with a college freshman, even if Claire is only sixteen at the time. These books have been successful with a wide audience, some teens, some adults.


New Adult is an age category, not a genre.

I can agree with this, but at the same time, "young adult" and "middle grade" are also age categories. These classifications might imply that certain things likely will (or will not) be found there, but different genres - contemporary, paranormal, fantasy, dystopian - are found within these different age groups. Why should new adult be any different?


New Adult has no shelving place in stores.

Neither did YA at one time. It wasn't that long ago that all children's books were lumped together in major bookstores like Barnes and Noble. It has only been recently that the teen books have been given so much of their own shelf space. In some ways, I think it's like the saying, "If you build a city, they will come." If New Adult books are shelved, they can attract readers. If the books are denied publication, they can't. As long as most NA books are limited to ebooks and not displayed, potential readers will miss them. Simple as that.


New Adult is just YA with more sex.

Actually, there's already a genre about sex. It's called romance. (Yes, I know that not all romance books have sex, but stick with me.) NA has more sex because the possibility of having more sex is there. NA has more sex because it's realistic that college-age students could have more experience with it than high school students. NA has more sex because at that point, the characters are legal adults and so authors can't be accused of "setting a bad example." But that isn't the reason for NA, at least not for every author or every story.

But there are also some very positive things about New Adult:
New Adult allows new stories to be told.

Some stories simply don't work with teenage characters; likewise, some don't work with middle-aged characters. With NA, authors have so much freedom. Are the characters in college? Recently graduated? A couple of years post-graduation and realizing that where they are now didn't match their five-year plan? The possibilities are endless and exciting.


New Adult reaches a new group of people.

I love YA books. I truly do. But at the same time, I'm not in high school. I don't necessarily want to relive those memories just yet, and I still remember exactly how it felt to fall in love for the first time. Conversely, I'm not "settled." I don't have to juggle a family and a career, I'm not a mom who feels stifled by her choices, I'm not going through a divorce and trying to reclaim myself. As much as I love YA, I started reading it because it was relatable in a way general fiction was not. (The fact that I also read paranormal romance is another thing altogether.) However, if there were more NA books, I think I would read more of them. I want to read about characters going through the same thing I am - how you know that you made the right decision once you start your career, what it's like to find "the one" (because let's face it, the complete infatuation and even love that's in YA books isn't the same thing as being ready to accept a marriage proposal), or even what happens when you watch your friends get married and you're the last single holdout. Yes, I'm sure these books are out there. And if they had the same community/marketing/shelf space that YA had, I can only imagine that NA could grow in popularity over the next few years like YA has.

In short, I hope that NA continues to flourish and grows into something close to what YA has. Given the talented YA writers that are out there, I can only imagine what awesome NA stories are waiting to be told, and I know I want to be reading them.
What are your thoughts on New Adult as a genre? Have you read any New Adult books that you loved? What makes them stand out from YA or general fiction?