Opening Lines is a new feature here on Portrait of a Book that showcases the first lines of recent and/or upcoming releases. If you're looking for your next read, let these first lines help you decide!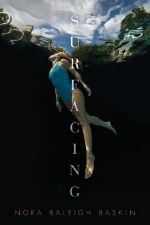 SURFACING
By: Nora Raleigh Baskin
Published By: Candlewick
Release Date: March 12, 2013
Buy the Book: Amazon
A lyrical and deeply moving portrait of grief, blame, and forgiveness, and of finding the courage to confront your ghosts — one truth at a time.
As soon as she was under, Maggie heard the quiet, though every sound was amplified in her ears and in her brain . . . Sound, like shame, travels four times faster under the water.
Though only a sophomore, Maggie Paris is a star on the varsity swim team, but she also has an uncanny, almost magical ability to draw out people's deepest truths, even when they don't intend to share them. It's reached a point where most of her classmates, all but her steadfast best friend, now avoid her, and she's taken to giving herself away every chance she gets to an unavailable — and ungrateful — popular boy from the wrestling team, just to prove she still exists. Even Maggie's parents, who are busy avoiding each other and the secret deep at the heart of their devastated family, seem wary of her. Is there such a thing as too much truth?
"The most peaceful memory I have is of when I drown."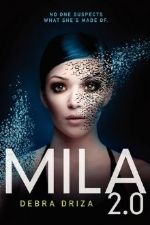 MILA 2.0
By: Debra Driza
Published By: Katherine Tegen Books
Release Date: March 12, 2013
Buy the Book: Amazon
Mila 2.0 is the first book in an electrifying sci-fi thriller series about a teenage girl who discovers that she is an experiment in artificial intelligence.
Mila was never meant to learn the truth about her identity. She was a girl living with her mother in a small Minnesota town. She was supposed to forget her past—that she was built in a secret computer science lab and programmed to do things real people would never do.
Now she has no choice but to run—from the dangerous operatives who want her terminated because she knows too much and from a mysterious group that wants to capture her alive and unlock her advanced technology. However, what Mila's becoming is beyond anyone's imagination, including her own, and it just might save her life.
Mila 2.0 is Debra Driza's bold debut and the first book in a Bourne Identity-style trilogy that combines heart-pounding action with a riveting exploration of what it really means to be human. Fans of I Am Number Four will love Mila for who she is and what she longs to be—and a cliffhanger ending will leave them breathlessly awaiting the sequel.
"Beyond the eastern border of Greenwood Ranch, orange poured across the sky, edging the clouds like flame."
PRETTY GIRL-13
By: Liz Coley
Published By: Katherine Tegen Books
Release Date: March 19, 2013
Buy the Book: Amazon
Reminiscent of the Elizabeth Smart case, Pretty Girl-13 is a disturbing and powerful psychological mystery about a girl who must piece together the story of her kidnapping and captivity.
Angie Chapman was thirteen years old when she ventured into the woods alone on a Girl Scouts camping trip. Now she's returned home…only to find that it's three years later and she's sixteen-or at least that's what everyone tells her.
What happened to the past three years of her life?
Angie doesn't know.
But there are people who do — people who could tell Angie every detail of her forgotten time, if only they weren't locked inside her mind. With a tremendous amount of courage, Angie embarks on a journey to discover the fragments of her personality, otherwise known as her "alters." As she unearths more and more about her past, she discovers a terrifying secret and must decide: When you remember things you wish you could forget, do you destroy the parts of yourself that are responsible?
Liz Coley's alarming and fascinating psychological mystery is a disturbing - and ultimately empowering page-turner about accepting our whole selves, and the healing power of courage, hope, and love.
"'Go back now,' a voice said."
17 & Gone
By: Nova Ren Suma
Published By: Dutton Juvenile
Release Date: March 21, 2013
Buy the Book: Amazon
Seventeen-year-old Lauren is having visions of girls who have gone missing. And all these girls have just one thing in common—they are 17 and gone without a trace. As Lauren struggles to shake these waking nightmares, impossible questions demand urgent answers: Why are the girls speaking to Lauren? How can she help them? And… is she next? As Lauren searches for clues, everything begins to unravel, and when a brush with death lands her in the hospital, a shocking truth emerges, changing everything.
With complexity and richness, Nova Ren Suma serves up a beautiful, visual, fresh interpretation of what it means to be lost.
"Girls go missing every day."
Do any of these opening lines grab your attention? What are your favorite first lines that you've read lately?