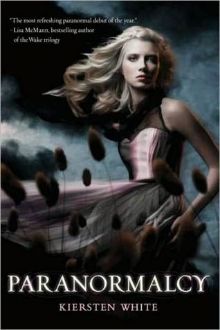 PARANORMALCY
By: Kiersten White
Published By: Harper Teen
Release Date: Aug. 31, 2010
Series: Paranormalcy (#1)
Pages: 335
Genre: Paranormal
Reading Level: Young Adult
Source: Bought
Buy the Book: Amazon
Goodreads Summary: Vampires. Werewolves. Faeries. Shapeshifters.

Evie's always thought of herself as normal. Sure, her best friend is a mermaid, her ex-boyfriend is a faerie, she's falling for a shape-shifter, and she's the only person who can see through paranormals' glamours, but still. Normal.

Only now paranormals are dying, and Evie's dreams are filled with haunting voices and mysterious prophecies. She soon realizes that there may be a link between her abilities and the sudden rash of deaths, and even worse, that she is at the centre of a dark prophecy promising destruction to all paranormal creatures.
You know those books that you have on your shelf for a long time even after everyone has raved about it, and when you finally get around to reading it you wonder what took you so long? Paranormalcy was one of those books for me. The good things I'd heard about it were all true, and the book was so much fun to get lost in.
Evie works for the IPCA, the International Paranormal Containment Agency. She has a unique ability - she can see through the glamours of paranormal creatures, allowing her to identify and get information about paranormal creatures from vampires to werewolves to hags. Evie's been at IPCA for as long as she can remember, but working all the time and being the only teenager there makes for a lonely life. She wants to experience life like the teens on her favorite show, Easton Heights. But when there's a breach at IPCA, paranormals are dying, and there's a strange new boy currently being detained by IPCA, her life suddenly gets a little more exciting. Add to that falling for a shapeshifter and finding herself involved in a prophecy, and Evie realizes her life has never been more para-normal. Can Evie figure out who's killing all the paranormal creatures and figure out if the cute new boy actually likes her?
From the beginning, I was hooked on Paranormalcy because of Evie's voice. She loves pink and going shopping like any teenage girl, but at the same time, growing up around adults and working for the agency has given her a sharp wit. She's direct and sarcastic, which I loved, and her voice makes the whole book fun to read. And everything else made the book more enjoyable. A lot of standard paranormal creatures show up in Paranormalcy; some are what you would expect, but others Kiersten White has put her own spin on, especially faeries. By far one of the most unique creatures was Lend, who despite his abilities is also Evie's first real look into a normal life, one with high school lockers and all. Lend was an all-around good guy, despite what face he was wearing. Contrasted with him was Reth, a faerie and Evie's quasi-ex-boyfriend, and he always seemed to be more than he appeared. While his interactions with Evie had an uneasy feeling, Evie's time with Lend felt comfortable. They actually were friends before anything more happened, and it was so refreshing to see that.
Even during the downtime in this book, there wasn't a dull moment. The pacing was great, letting me finish the book before I even realized the ending was so close. There was a great balance of action, romance, world-building, and humor that left me wanting more of the book even after I'd finished the story. I need more of this world, and I'm very glad that all three books are already out.
Paranormalcy was a fantastic start to this trilogy. I read a preview chapter for the next book, Supernaturally, and right away the stakes are heightened again and I'm dying to know what happens. I can't wait to read more of this story!