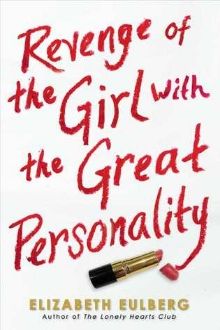 REVENGE OF THE GIRL WITH THE GREAT PERSONALITY
By: Elizabeth Eulberg
Published By: Point
Release Date: March 1, 2013
Series: None
Pages: 272
Genre: Contemporary
Reading Level: Young Adult
Source: Netgalley
Buy the Book: Amazon
Goodreads Summary: A hilarious new novel from Elizabeth Eulberg about taking the wall out of the wallflower so she can bloom.

Don't mess with a girl with a great personality!

Everybody loves Lexi. She's popular, smart, funny...but she's never been one of those girls, the pretty ones who get all the attention from guys. And on top of that, her seven-year-old sister, Mackenzie, is a terror in a tiara, and part of a pageant scene where she gets praised for her beauty (with the help of fake hair and tons of makeup).

Lexi's sick of it. She's sick of being the girl who hears about kisses instead of getting them. She's sick of being ignored by her longtime crush, Logan. She's sick of being taken for granted by her pageant-obsessed mom. And she's sick of having all her family's money wasted on a phony pursuit of perfection.

The time has come for Lexi to step out from the sidelines. Girls without great personalities aren't going to know what hit them. Because Lexi's going to play the beauty game - and she's in it to win it.
I have most of Elizabeth Eulberg's books, but this is the first one that I've read. I was looking forward to this book, but it didn't turn out to be quite what I was expecting.
Since her little sister Mackenzie came along, Lexi's life has revolved around beauty pageants. Her mom makes sure that Mac has whatever she needs to compete and spends countless hours planning and competing in pageants, leaving things with Lexi to fall by the wayside. Still, Lexi has great friends, Benny and Cam, and as so many have told her, a "great personality." But Lexi wants more. She wants to be someone who could capture the attention of a guy like Logan, pageant-queen Alyssa's boyfriend. When she makes a deal with Benny to start wearing makeup and dressing up, she thinks nothing will happen. Was she ever wrong. Before she knows it, Lexi has to decide which is more important - having a great appearance or truly having a great personality?
When I started this book, I was hoping for some Toddlers-and-Tiaras-esque laughs and a girl who broke stereotypes by not being beauty pageant material and still ending up with the guy she wanted. Instead I found myself annoyed with both Lexi and the "pretty girl who doesn't know she's pretty" stereotype early in the book. I'm not sure if this was a case of "wrong book, wrong time," or if I just couldn't connect to Lexi the way I wanted to. Either way, I spent most of the book feeling like there was a disconnect, and by the time that I began to care about the characters, the book was almost over. In addition, one character really disappointed me at the end, and it left me with an unsettled feeling. Many things about this book may have been realistic, but in the end I mostly wished they weren't. There was a good message there, but I felt like it got somewhat lost in the story.
That being said, there are some good things about this book, as well as events and emotions that give it depth. Lexi does not always agree or get along with her mother, and things come to a head with them more than once. She misses her dad, and though she loves her friends, at sixteen sometimes she still needed a parent who would care for her. It was easy to sympathize with Lexi in those moments as she dealt with unfair situations. Lexi was a good person when it counted, which I appreciated. There were also some lighter moments to the book, including learning about flippers and watching Lexi apply mascara for the first time. Even still, I just couldn't get into the book the way I wanted to.
I still plan to read Elizabeth Eulberg's other books, and I know other people enjoyed this book more than I did. See reviews at these blogs:
A Blog About Nothing
Ex Libris