Book Blogger Hop is a weekly meme hosted by
Jennifer at Crazy-for-Books
. In the spirit of the Twitter Friday Follow, the Book Blogger Hop is a place just for book bloggers and readers to connect and share our love of the written word! This weekly BOOK PARTY is an awesome opportunity for book bloggers to connect with other book lovers, make new friends, support each other, and generally just share our love of books! It will also give blog readers a chance to find other book blogs to read! So visit Crazy-for-Books to grab the logo, post about the Hop on your blog, and start HOPPING through the list of blogs that are posted in the Linky list there!
This week's question:
"What is the one ARC you would love to get your hands on right now?"
I'm positive that ARCs for this aren't out yet, but after reading the first chapter, I have to say
Bloodrose
by Andrea Cremer. I can't wait to see how this trilogy ends! For ARCs that are actually out, my answer would be
Shattered Souls
by Mary Lindsey. I was so disappointed that there weren't any ARCs at ALA, because I'm very much looking forward to reading it!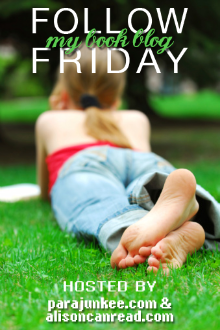 Follow Friday is hosted by
Parajunkee
and
Allison Can Read
. Visit either of their blogs for complete rules of the following fun!
This week's question:
"Talk about the book that most changed or influenced your life (was it a book that turned you from an average to avid reader, did it help you deal with a particularly difficult situation, does it bring you comfort every time you read it?)."
I have two answers to this. The first is the Sword of Truth series by Terry Goodkind. It's an epic fantasy series with eleven books, but woven throughout the books are bits of philosophy akin to Ayn Rand's objectivism. These books gave me a different outlook on life and, even though I haven't read the series as a whole for five years, I still think about the messages contained in them. My second answer, as cliche as it will sound, is the Twilight saga. I think these books had the impact they did because of the time of my life when I read them. My love for those books not only got me back into reading but also led me to find other like-minded people, which allowed me to meet some of the people I now call my best friends.
That being said, I think that the mark of an amazing book is that you can take something away from it, whether it be a new way of thinking, hope for a given situation, or even renewed faith in something like the power of love. So many books can fit that description, and I look forward to finding even more of them!
What are your answers? Please leave a comment or a link to your blog!