Book Blogger Hop is a weekly meme hosted by
Jennifer at Crazy-for-Books
. In the spirit of the Twitter Friday Follow, the Book Blogger Hop is a place just for book bloggers and readers to connect and share our love of the written word! This weekly BOOK PARTY is an awesome opportunity for book bloggers to connect with other book lovers, make new friends, support each other, and generally just share our love of books! It will also give blog readers a chance to find other book blogs to read! So visit Crazy-for-Books to grab the logo, post about the Hop on your blog, and start HOPPING through the list of blogs that are posted in the Linky list there!
This week's question:
"Non-book-related this week!! Do you have pets?"
Sadly, no, and I never have. My father is allergic to both cats and dogs, so I could never have one growing up. Now I've moved out, but I'm still in school and just don't have the time for a pet. I'd like to have a cat one day though.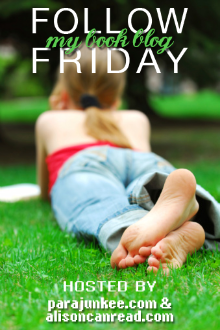 Follow Friday is hosted by
Parajunkee
and
Allison Can Read
. Visit either of their blogs for complete rules of the following fun!
This week's question:
"In books like the Sookie Stackhouse (True Blood) series the paranormal creature in question "comes out of the closet" and makes itself known to the world. Which mythical creature do you wish would come out of the closet, for real?"
I think it would depend on the situation. While there are some vampires I certainly wouldn't mind being real, there are some I would never want to meet. Actually, I think that's the case with most supernatural creatures - witches and wizards, shifters, and ghosts...even some angels. Even so, I think I would choose angels - the good kind - being able to know and see them on earth.
What are your answers? Please leave a comment or a link to your blog!