Book Blogger Hop is a weekly meme hosted by Jennifer at
Crazy-for-Books
. In the spirit of the Twitter Friday Follow, the Book Blogger Hop is a place just for book bloggers and readers to connect and share our love of the written word! This weekly BOOK PARTY is an awesome opportunity for book bloggers to connect with other book lovers, make new friends, support each other, and generally just share our love of books! It will also give blog readers a chance to find other book blogs to read! So visit Crazy-for-Books to grab the logo, post about the Hop on your blog, and start HOPPING through the list of blogs that are posted in the Linky list there!
This week's question:
"It's time to spread some love beyond the borders of the Book Blogger Hop! This week, we aren't answering a question. We are spotlighting our fellow bloggers. Find your favorite(s) author interview(s), guest post(s), book review(s), or bookish article(s) that ANOTHER BOOK BLOGGER featured on their site recently and tell us why you love it/them! As an additional challenge, find your favorite one of EACH of the categories above and spotlight all 4 (interview, guest post, review, article)."
I am searching through blogs to see what I can find! Here is the one post that I do remember really enjoying.
Guest Post - Amy Garvey talking about imagery on
Books Complete Me
. She gave some examples of how she would turn some ordinary phrases into descriptive poetry.
Review - Daughter of Smoke and Bone on
The Bookish Type
. I actually think that all of Casey's reviews are extremely well-written and enjoyable to read; this just happens to be one of her more recent posts.
I will add more as I remember or find them!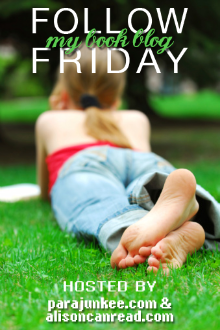 Follow Friday is hosted by
Parajunkee
and
Allison Can Read
. Visit either of their blogs for complete rules of the following fun!
This week's question:
"If you could pick one character in a book, movie or television show to swap places with, who would it be?"
Hmm...this is tough! I think I would have to choose Thursday Next from the Thursday Next series (
The Eyre Affair
,
Lost in a Good Book
,
The Well of Lost Plots
,
Something Rotten
, and
First Among Sequels
). Yes, this is kind of cheating - if I could trade places with her, then I could travel into any book that I wanted! And I think it would be amazing to visit some of these worlds.
What are your answers? Please leave a comment or a link to your blog!