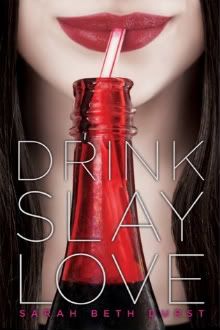 DRINK, SLAY, LOVE by Sarah Beth Durst
Pearl is a sixteen-year-old vampire... fond of blood, allergic to sunlight, and mostly evil... until the night a sparkly unicorn stabs her through the heart with his horn. Oops.
Her family thinks she was attacked by a vampire hunter (because, obviously, unicorns don't exist), and they're shocked she survived. They're even more shocked when Pearl discovers she can now withstand the sun. But they quickly find a way to make use of her new talent. The Vampire King of New England has chosen Pearl's family to host his feast. If Pearl enrolls in high school, she can make lots of human friends and lure them to the King's feast -- as the entrees.
The only problem? Pearl's starting to feel the twinges of a conscience. How can she serve up her new friends—especially the cute guy who makes her fangs ache—to be slaughtered? Then again, she's definitely dead if she lets down her family. What's a sunlight-loving vamp to do? (From Goodreads)
You can read my review here.
~INTERVIEW~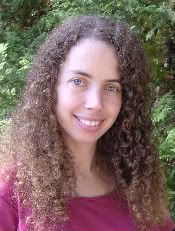 I'm very excited to have
Sarah Beth Durst
here today. I had the pleasure of interviewing Sarah last year for ENCHANTED IVY and was thrilled to have the opportunity to talk with her again about DRINK SLAY LOVE. Please take a few minutes to learn more about this amazing author!
You've said that the idea that unicorns would be natural vampire hunters occurred to you one day, and DRINK SLAY LOVE grew from this. How did that thought transform into a family of were-unicorns?
A lonely unicorn is a heartbreaking sight. All the sparkles fall from its hide like rain... Okay, seriously, I wanted my were-unicorn to come from a loving, functional family to contrast with Pearl's (my vampire girl) Mafia-like, spare-the-rod-but-bring-out-the-medieval-torture-devices, don't-bring-anyone-home-for-dinner-unless-you-want-him-to-be-dinner, totally dysfunctional family.
If Pearl could say anything to anyone in her family without repercussions, who would she choose and what would she say?
She would tell her daddy she loves him. Hah, no! She'd be much more likely to tell her mother that she's a psycho. Or Uncle Stefan that he's an uber-psycho. Or Jeremiah that his breath stinks...
All of your stories have an element of fantasy or the paranormal. Why do you feel drawn to these genres?
I believe the old sage advice "Write what you know" should really be "Write what you love." And I love fantasy. I love the sense of optimism and empowerment that comes with a story about facing the impossible. And I love the sheer awesomeness of writing about things that don't (and can't) exist.
Out of all of the characters you've written, which do you connect with the most? Which did you enjoy writing the most?
I connected the most with Lily (from Enchanted Ivy). She's driven to pursue her dreams, and she really loves her family. Also, she gets to ride a dragon and I've ALWAYS wanted to ride a dragon.
The character I most enjoyed writing was Pearl (from Drink, Slay, Love). She's fearless, funny, and mostly evil. It was very freeing to write about someone who doesn't suffer fools and who is pretty much made of snark.
If you could visit a world created in a book, which book would you choose? What would you do there?
I'd visit Narnia (but only after the defeat of the Witch). I have a fondness for talking animals. In fact, it is my firmly held belief that all novels can be improved by the addition of a talking cat.
What is your favorite quote?
"If you're afraid of the dark, remember the night rainbow." -- Cooper Edens
What can you tell us about your next project?
My next novel is called Vessel. It's a standalone YA fantasy novel, and it will be out from Simon & Schuster in fall 2012. I'm really, really excited about it!
Thanks so much for interviewing me!
Thank you for stopping by! If you're curious about DRINK SLAY LOVE now (and you should be!), see below for details of how to win a copy!
~GIVEAWAY~
Because I really enjoyed this book and think others will too, you all have the chance to win a copy of DRINK, SLAY, LOVE! To enter, please fill out the form below.
This contest is open INTERNATIONALLY as long as The Book Depository ships to your country. Must be 13 to enter. Please see my
Contest Policy
for more information.
This contest will close on Friday, November 11 at 12 midnight CST.
This contest is closed.