"Waiting on" Wednesday is a weekly event hosted by Jill at
Breaking the Spine
that spotlights upcoming releases that we're eagerly anticipating.
This week's selection is: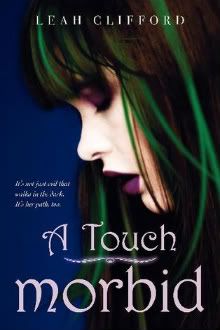 A TOUCH MORBID
By: Leah Clifford
Published By: Greenwillow
Release Date: Feb. 28, 2012
Preorder the Book: Amazon
Goodreads Summary: Eden won the battle-she saved her true love from the darkest evil. But the war has only just begun. With secrets swirling around her, powerful allies unraveling, and life-and death-as she knows it eroding, Eden and those she loves tread dangerous ground. Can she trust anyone? Will her unearthly powers be her salvation or her downfall? A sweeping, dark, and sexy paranormal romance that will haunt readers with an inventive mythology and a cinematic New York City filled with shadows and longing.
Why it's wanted:
The first book in this trilogy was interesting and I'm curious to see what happens next. Leah's writing style is fresh and different, and I'm looking forward to reading more.