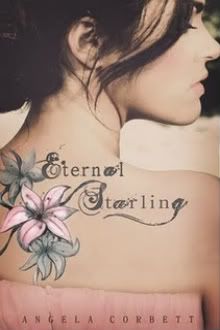 ETERNAL STARLING by Angela Corbett
A love so strong, even eternity can't separate them.
Evie Starling has lived a relatively uneventful life hanging out with friends, gossiping about boys, and driving her 1966 Mustang. All of that changes when she moves to Gunnison, Colorado, to start college and meets two mysterious men.
For centuries, Alex Night and Emil Stone have yearned for Evie—but they each have their own reasons for wanting to be with her. When both men claim to be her soul mate and tell her about an unbelievable past, Evie learns that she's not the person she thought she was. Soon, Evie finds herself in the middle of an age-old battle between the Amaranthine Society—the soul protectors, and the Daevos Resistance—the soul destroyers. With a past she doesn't understand, and a future rife with danger, Evie has to decide who she can trust. But Alex and Emil aren't the only ones who want Evie, and her soul is about to become the rope in an eternal tug-of-war. (From Goodreads)
~INTERVIEW~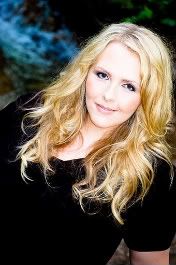 I'm very excited to have
Angela Corbett
here today. In anticipation of the release of Eternal Starling she took some time to answer a few questions for us. Please take a few minutes to learn more about this great author!
How did you develop the world and concepts in Eternal Starling?
I really wanted to write an eternal love story, but I didn't want it based on a mythology that was already created--I wanted to write my own. I'd been trying to come up with an idea for about a month when three things happened. First, I saw a segment of an Oprah episode that made me start thinking about eternity in a different way. A couple of weeks later, we were in the car and Gavin Rossdale's song, "Love Remains the Same" came on the radio. I was listening to the words as I looked out the window at the mountains and the story just clicked into place. In my head, I saw a girl and two boys standing in the mountains. They became Evie, Alex, and Emil. I wasn't expecting to come up with a book idea in the car and didn't have paper with me, so instead, I started pulling receipts from my wallet and wrote the idea on the back of the receipts. Now I make sure to always carry a notebook and pen in my purse! When I got home that night, I wrote the first chapter and a skeletal outline. I finished the book in three months, then went through a long revision process. The mythology evolved a lot during revisions.
What would Evie's first Twitter/Facebook status update have been after meeting Alex? After meeting Emil?
Oooo! That's a great question!
After meeting Alex: Got lost in the mountains and rescued by a bear...#HotBear
After meeting Emil: Wow! College guys are SUPER friendly.
What was the journey like from first draft to publication?
Long! I finished the first draft of Eternal Starling in August 2008. I spent a year revising it before I started submitting to agents, then revised more based on their feedback. I had some agents interested, but since Evie is a freshman in college, the line is blurred as to whether the book is YA or Adult. Agents and some of my author friends told me I should revise it and put Evie in high school. I tried to do that, but it didn't work with my vision for the book or where I wanted the trilogy to go, so I kept querying. I started posting some chapters on my website and had an amazing response from readers. I decided to try submitting to smaller publishers because they're more willing to take on a book that crosses genres like mine. I had a couple of publishers interested and Pendrell Publishing was the first to make me an offer.
What is one book that you wish you had written?
Only one? I have so many! One of my favorite books is The Hunger Games. It's one of those books you think about long after you're done with it, and will always stick with you. I'm in complete awe of Suzanne Collins' talent, and if I ever met her, I'd probably act like a complete fangirl.
If you could have any talent or skill, what would you choose?
I'd love to speak a foreign language fluently. I took Spanish classes at one point, but I've forgotten a lot of it. I need to take the time to really learn it again. I did a study abroad trip in Europe during college and while I was in France, I tried to ask a salesperson how to buy an international telephone card. I ended up mixing Spanish, French, and English. I'm pretty sure the guy thought I was nuts.
What can you tell us about the second book in the trilogy?
When I first started writing Eternal Starling, I thought it would just be a love story. I know some people hate love triangles, but I've loved them for as long as I can remember. I wanted to write a love triangle where people would be kept guessing about who Evie would eventually end up with. But, during the revision process, I realized the book was so much more than just a love story. It's really a story about Evie, and you'll get to find out more about her history in the second book.
~GIVEAWAY~
Are you excited about Eternal Starling yet? To add to that, you also have a chance to win a book thong and a bookmark!
This contest is open to US residents only. Must be 13 to enter. Please see my
Contest Policy
for more information.
This contest will close on Friday, November 18 at 12 midnight CST.
This contest is closed.
There's more!
Angela will be hosting a pre-order contest to win a Kindle. Anyone who pre-orders Eternal Starling can be entered to win a Kindle. Just to email Angela a photo of the receipt, or a copy of the email receipt for proof of purchase. The contest will begin the day the tour kick-off on November 1st and will continue until the Eternal Starling's release date on December 6th. The email to use to send proof is EternalStarlingContest@gmail.com.