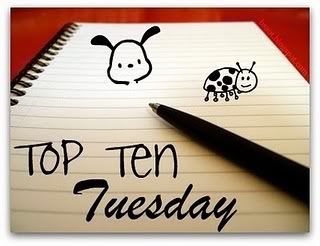 Top Ten Tuesday is a weekly meme hosted by
The Broke and the Bookish
. Each week there will be a new topic and a new list to make. Be sure to stop by the host blog to see all of the other blogs participating!
This week's topic:


Top Ten Books That Have Been on My Shelf for the Longest Time But I've Never Read
1. Lord of the Rings - I've read The Hobbit, but somehow I haven't managed to read these. Shame on me, I know!
2. To Say Nothing of the Dog by Connie Willis: A friend recommended this to me well over five years ago, and it's been on my shelf since then.
3. American Gods by Neil Gaiman: I've read other things by Neil Gaiman and love some of the quotes I've found from his books, but somehow I've never managed to read this one.
4. The Troy Game books by Sara Douglass: A friend recommended these, but I only have the first three, so I've never read them.
5. Atonement by Ian McEwan: I tried to start this book but just couldn't get into it. One day I'll pick it up again.
6. The Host by Stephenie Meyer: I'm a bad Twilight fan who hasn't read this book.
7. Maskerade by Terry Pratchett: I bought this because of the cover and its relationship to Phantom of the Opera, but I haven't found the time to pick it up.
8. Pride and Prejudice Spinoffs: I have at least six of these on my shelves that I haven't found the time to read.
9. Vienna Prelude by Bodie Thoene: I love the premise of this book - it's about a musician - but it's still stayed on my shelf.
10. Angels and Demons by Dan Brown: This is the one book I broke my rule for and saw the movie before reading the book. One day I will read it!
What made your Top Ten list? Please leave a comment or link to your blog!