"Waiting on" Wednesday is a weekly event hosted by Jill at
Breaking the Spine
that spotlights upcoming releases that we're eagerly anticipating.
This week's selection is: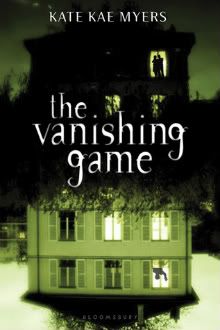 THE VANISHING GAME
By: Kate Kae Myers
Published By: Bloomsbury USA Childrens
Release Date: Feb. 14, 2012
Preorder the Book: Amazon
Goodreads Summary: Jocelyn's twin brother Jack was the only family she had growing up in a world of foster homes-and now he's dead, and she has nothing. Then she gets a cryptic letter from "Jason December"-the code name her brother used to use when they were children at Seale House, a terrifying foster home that they believed had dark powers. Only one other person knows about Jason December: Noah, Jocelyn's childhood crush and their only real friend among the troubled children at Seale House.

But when Jocelyn returns to Seale House and the city where she last saw Noah, she gets more than she bargained for. Turns out the house's powers weren't just a figment of a childish imagination. And someone is following Jocelyn. Is Jack still alive? And if he is, what kind of trouble is he in? The answer is revealed in a shocking twist that turns this story on its head and will send readers straight back to page 1 to read the book in a whole new light.
Why it's wanted:
This book sounds very spooky and unlike anything I've read before. I'm curious to see how everything will play out!