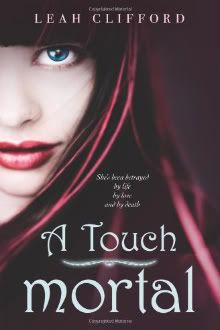 A TOUCH MORTAL
By: Leah Clifford
Published By: Greenwillow Books
Release Date: Feb. 22, 2011
Series: Touch Mortal (#1)
Pages: 432
Genre: Urban Fantasy
Reading Level: Young Adult
Source: Book Expo America
Buy the Book: Amazon
Goodreads Summary: Eden didn't expect Az.

Not his saunter down the beach toward her. Not his unbelievable pick-up line. Not the instant, undeniable connection. And not his wings.

Yeah.

So long, happily-ever-after.

Now trapped between life and death, cursed to spread chaos with her every touch, Eden could be the key in the eternal struggle between heaven and hell. All because she gave her heart to one of the Fallen, an angel cast out of heaven.

She may lose everything she ever had. She may be betrayed by those she loves most. But Eden will not be a pawn in anyone else's game. Her heart is her own.

And that's only the beginning of the end.
When I read that stories are about angels and/or fallen angels, I tend to think that the story is going to follow a fairly familiar pattern. A Touch Mortal was definitely something different and gave more complexity to the age-old good vs. evil battle.
Eden's life isn't what she would call happy. It seems as though she's becoming more and more invisible to everyone around her, and she's struggling to find something to live for. Then she meets Az and Gabe. There's something different about them, but she can't quite place it. Against her better judgement, she goes to dinner with Az. Two weeks later their relationship has become very involved, but Az knows this can't happen. To protect Eden, Az does the unthinkable... Eden is suddenly plunged into an unknown world, one of good and bad angels (Bound and Fallen) and Siders, other people like her. As Eden spends more time in this new world, she finds herself at the center of an old battle, unsure of whom she can trust with her life...or her heart.
A Touch Mortal is a new take on an angel story, one with a much darker edge. I enjoyed the inventiveness of this story as well as the gradual transformations of Eden and Gabe. They both grew stronger throughout the book, proving that what is expected is not always what's right or what will happen. I also especially liked Kristen's character and her poetry quotations. Her interesting shopping habits and her snappy dialogue with Eden added yet another dimension to the book. The suspense of what side would win built throughout the book, and I was kept guessing until the end about what exactly would happen and what the truth behind everything was.
However, I did have a few problems with this novel. I felt as though it was missing some important connections and explanations, causing the world-building to feel incomplete. While the story is worth deciphering things, there were several scenes that still left me confused. It is worth noting that there are several mentions of suicide in the book, and while the the subject is not explored, it is not treated lightly either. Finally, there are two time skips in this book, but rather than hurt the story, they actually move it forward.
With interesting characters and an even more intriguing world, A Touch Mortal is the first book of what promises to be a good trilogy. I'll be looking forward to reading A Touch Morbid!