Opening Lines is a new feature here on Portrait of a Book that showcases the first lines of recent and/or upcoming releases. If you're looking for your next read, let these first lines help you decide!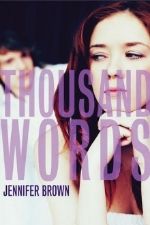 THOUSAND WORDS
By: Jennifer Brown
Published By: Little, Brown Books for Young Readers
Release Date: May 21, 2013
Buy the Book: Amazon
Ashleigh's boyfriend, Kaleb, is about to leave for college, and Ashleigh is worried that he'll forget about her while he's away. So at a legendary end-of-summer pool party, Ashleigh's friends suggest she text him a picture of herself -- sans swimsuit -- to take with him. Before she can talk herself out of it, Ashleigh strides off to the bathroom, snaps a photo in the full-length mirror, and hits "send."
But when Kaleb and Ashleigh go through a bad breakup, Kaleb takes revenge by forwarding the text to his baseball team. Soon the photo has gone viral, attracting the attention of the school board, the local police, and the media. As her friends and family try to distance themselves from the scandal, Ashleigh feels completely alone -- until she meets Mack while serving her court-ordered community service. Not only does Mack offer a fresh chance at friendship, but he's the one person in town who received the text of Ashleigh's photo -- and didn't look.
Acclaimed author Jennifer Brown brings readers a gripping novel about honesty and betrayal, redemption and friendship, attraction and integrity, as Ashleigh finds that while a picture may be worth a thousand words . . . it doesn't always tell the whole story.
"The community service I'd been court ordered to complete was held in one of the downstairs classrooms at the Chesterton Public Schools central office."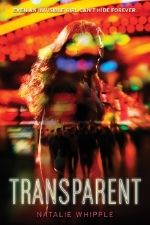 TRANSPARENT
By: Natalie Whipple
Published By: Harper Teen
Release Date: May 21, 2013
Buy the Book: Amazon
Plenty of teenagers feel invisible. Fiona McClean actually is.
An invisible girl is a priceless weapon. Fiona's own father has been forcing her to do his dirty work for years—everything from spying on people to stealing cars to breaking into bank vaults.
After sixteen years, Fiona's had enough. She and her mother flee to a small town, and for the first time in her life, Fiona feels like a normal life is within reach. But Fiona's father isn't giving up that easily.
Of course, he should know better than anyone: never underestimate an invisible girl.
"I nearly died the second I was born."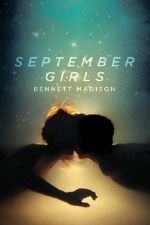 SEPTEMBER GIRLS
By: Bennett Madison
Published By: Harper Teen
Release Date: May 21, 2013
Buy the Book: Amazon
When Sam's dad whisks him and his brother off to a remote beach town for the summer, he's all for it-- at first. Sam soon realizes, though, that this place is anything but ordinary. Time seems to slow down around here, and everywhere he looks, there are beautiful blond girls. Girls who seem inexplicably drawn to him.
Then Sam meets DeeDee, one of the Girls, and she's different from the others. Just as he starts to fall for her, she pulls away, leaving him more confused than ever. He knows that if he's going to get her back, he'll have to uncover the secret of this beach and the girls who live here.
"The summer following the winter that my mother took off into something called Women's Land for what I could only guess would be all eternity, my father decided that there was no choice but for him to quit his despised job and take me and my brother to the beach for at least the entire summer and possibly longer."
THE BOOK OF BROKEN HEARTS
By: Sarah Ockler
Published By: Simon Pulse
Release Date: May 21, 2013
Buy the Book: Amazon
When all signs point to heartbreak, can love still be a rule of the road? A poignant and romantic novel from the author of Bittersweet and Twenty Boy Summer.
Jude has learned a lot from her older sisters, but the most important thing is this: The Vargas brothers are notorious heartbreakers. She's seen the tears and disasters that dating a Vargas boy can cause, and she swore an oath—with candles and a contract and everything—to never have anything to do with one.
Now Jude is the only sister still living at home, and she's spending the summer helping her ailing father restore his vintage motorcycle—which means hiring a mechanic to help out. Is it Jude's fault he happens to be cute? And surprisingly sweet? And a Vargas?
Jude tells herself it's strictly bike business with Emilio. Her sisters will never find out, and Jude can spot those flirty little Vargas tricks a mile away—no way would she fall for them. But Jude's defenses are crumbling, and if history is destined to repeat itself, she's speeding toward some serious heartbreak…unless her sisters were wrong?
Jude may have taken an oath, but she's beginning to think that when it comes to love, some promises might be worth breaking.
"The law of probability dictates that with three older sisters, a girl shall inherit at least one pair of cute shorts that actually fit."
Do any of these opening lines grab your attention? What are your favorite first lines that you've read lately?