Opening Lines is a new feature here on Portrait of a Book that showcases the first lines of recent and/or upcoming releases. If you're looking for your next read, let these first lines help you decide!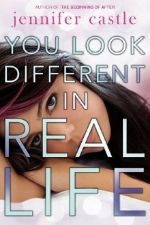 YOU LOOK DIFFERENT IN REAL LIFE
By: Jennifer Castle
Published By: Harper Teen
Release Date: June 4, 2013
Buy the Book: Amazon
For the rest of the world, the movies are entertainment. For Justine, they're real life.
The premise was simple: five kids, just living their lives. There'd be a new movie about them every five years, starting in kindergarten. But no one could have predicted what the cameras would capture. And no one could have predicted that Justine would be the star.
Now sixteen, Justine doesn't feel like a star anymore. In fact, when she hears the crew has gotten the green light to film Five at Sixteen, all she feels is dread. The kids who shared the same table in kindergarten have become teenagers who hardly know one another. And Justine, who was so funny and edgy in the first two movies, feels like a disappointment.
But these teens have a bond that goes deeper than what's on film. They've all shared the painful details of their lives with countless viewers. They all know how it feels to have fans as well as friends. So when this latest movie gives them the chance to reunite, Justine and her costars are going to take it. Because sometimes, the only way to see yourself is through someone else's eyes.
Smart, fresh, and frequently funny, You Look Different in Real Life is a piercing novel about life in an age where the lines between what's personal and what's public aren't always clear.
"Sometimes, I hit pause at a random moment when I'm on film and stare at my eyes, and try to figure out why they chose me."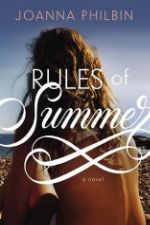 RULES OF SUMMER
By: Joanna Philbin
Published By: Poppy
Release Date: June 4, 2013
Buy the Book: Amazon
There are two sides to every summer.
When seventeen-year-old Rory McShane steps off the bus in East Hampton, it's as if she's entered another universe, one populated by impossibly beautiful people wearing pressed khakis and driving expensive cars. She's signed on to be a summer errand girl for the Rules -- a wealthy family with an enormous beachfront mansion. Upon arrival, she's warned by other staff members to avoid socializing with the family, but Rory soon learns that may be easier said than done.
Stifled by her friends and her family's country club scene, seventeen-year-old Isabel Rule, the youngest of the family, embarks on a breathless romance with a guy whom her parents would never approve of. It's the summer for taking chances, and Isabel is bringing Rory along for the ride. But will Rory's own summer romance jeopardize her friendship with Isabel? And, after long-hidden family secrets surface, will the Rules' picture-perfect world ever be the same?
"She really should have just told someone."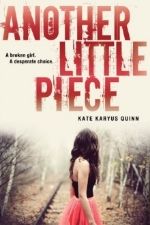 ANOTHER LITTLE PIECE
By: Kate Karyus Quinn
Published By: Harper Teen
Release Date: June 11, 2013
Buy the Book: Amazon
The spine-tingling horror of Stephen King meets an eerie mystery worthy of Sara Shepard's Pretty Little Liars series in Kate Karyus Quinn's haunting debut.
On a cool autumn night, Annaliese Rose Gordon stumbled out of the woods and into a high school party. She was screaming. Drenched in blood. Then she vanished.
A year later, Annaliese is found wandering down a road hundreds of miles away. She doesn't know who she is. She doesn't know how she got there. She only knows one thing: She is not the real Annaliese Rose Gordon.
Now Annaliese is haunted by strange visions and broken memories. Memories of a reckless, desperate wish . . . a bloody razor . . . and the faces of other girls who disappeared. Piece by piece, Annaliese's fractured memories come together to reveal a violent, endless cycle that she will never escape—unless she can unlock the twisted secrets of her past.
"The field didn't end so much as trail off, beaten back by the rusted-out trailer and circle of junked vehicles surrounding it."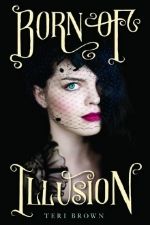 BORN OF ILLUSION
By: Terri Brown
Published By: Balzer + Bray
Release Date: June 11, 2013
Buy the Book: Amazon
Anna Van Housen is thirteen the first time she breaks her mother out of jail. By sixteen she's street smart and savvy, assisting her mother, the renowned medium Marguerite Van Housen, in her stage show and séances, and easily navigating the underground world of magicians, mediums and mentalists in 1920's New York City. Handcuffs and sleight of hand illusions have never been much of a challenge for Anna. The real trick is keeping her true gifts secret from her opportunistic mother, who will stop at nothing to gain her ambition of becoming the most famous medium who ever lived. But when a strange, serious young man moves into the flat downstairs, introducing her to a secret society that studies people with gifts like hers, he threatens to reveal the secrets Anna has fought so hard to keep, forcing her to face the truth about her past. Could the stories her mother has told her really be true? Could she really be the illegitimate daughter of the greatest magician of all?
"The hair on the back of my neck prickles even before I spot him rounding the corner ahead."
Do any of these opening lines grab your attention? What are your favorite first lines that you've read lately?