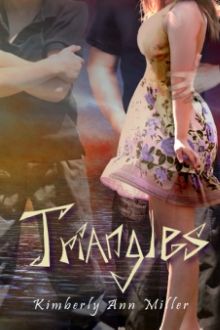 TRIANGLES
By: Kimberly Ann Miller
Release Date: June 18, 2013
Published By: Spencer Hill Press
Goodreads Summary: A cruise ship. A beautiful island. Two sexy guys. What could possibly go wrong?

In the Bermuda Triangle—a lot.

Hoping to leave behind the reminders of her crappy life--her father's death years ago, her mother's medical problems, and the loser who's practically stalking her--seventeen-year-old Autumn Taylor hops on a ship with her sister for a little distraction. When she wakes up in the Bermuda Triangle, she fears she's gone nuts for more than one reason: that loser's suddenly claiming they're a happy couple... a hot guy is wrapping his arms around her and saying "Happy Anniversary"... and suddenly, she's full of bruises, losing her hair, and getting IV medication. Autumn visits the ship's doctor, hoping for a pill or a shot to make the craziness go away. Instead, she's warned that these "alternate realities" could become permanent.

She just has to ask herself one question—how the hell is she going to get out of this mess?
Today is the release day for TRIANGLES! Book releases are always exciting, but this book has something most don't - you can enter to win a cruise! Go
here
for more information.
And if the synopsis wasn't enough to make you read this book, here's a teaser:
"The Bermuda Triangle should top your list of things to worry about on this vacation."

I laughed. "Hardly. I'm not exactly worried about swirling down some massive toilet bowl in the middle of the ocean."

She pulled her fingers through her long black hair. "You joke, but planes and boats go missing, and people think aliens abduct them or they get sucked into a time warp or the military is doing experiments. I've even heard theories about alternate realities, black holes, giant gas bubbles..." She took a deep breath and sighed. "The Bermuda Triangle has been sucking people in for hundreds of years. You might be next."
Excited for the book? Find it on
Amazon
and find the author, Kimberly Ann Miller, on her
website
or on
Twitter
. Happy release day to TRIANGLES!